Madonna's Super Bowl Halftime Medley Is Most Talked About Subject On Twitter; Game Is Most Watched TV Broadcast In History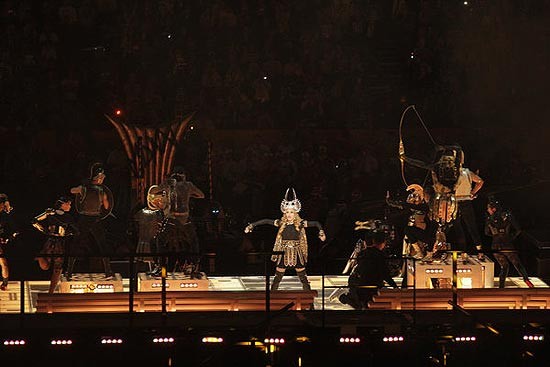 Madonna's halftime show at Sunday's Super Bowl between the New York Giants and the New England Patriots was all the rage on Twitter as the Material Girl set a new record as the most tweeted about subject on the social networking site - with 10,245 posts per second!

The pop queen wowed sports fans and those watching the big game around the world with a spectacular half-time show, featuring appearances from LMFAO, Nicki Minaj, M.I.A. and Cee Lo Green.

The 12-minute medley kicked off with "Vogue," to which the singer was carried in on a huge gold throne by her dancers - all of them dressed as Roman gladiators.

It looked as though Madonna lip-synch parts of the song before going into a version of "Music," which featured LMFAO and turned into a short medley of their hits "Sexy & I Know It" and "Party Rock Anthem." Minaj & M.I.A. then joined her for a full performance of her latest single, "Give Me All Your Luvin'," which appeared to be lip-synched in its entirety before Cee Lo Green led a marching band on stage for a duet of "Express Yourself" before leading an 80-person strong choir for "Like A Prayer."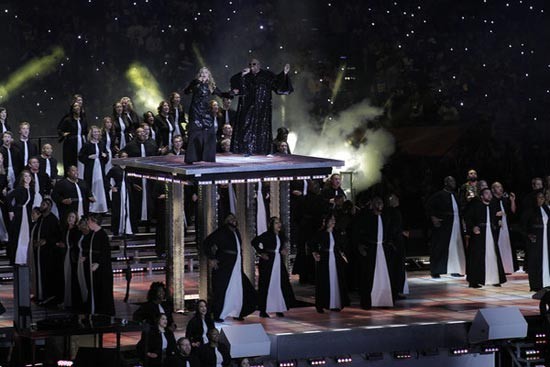 Madonna disappeared into the stage in a plume of white smoke at the end of the song to end the show, leaving a message flashing around the stadium reading "World Peace."

That message made it out to 111.3 million people tuned in to the game, making it the most watched broadcast in U.S. television history.

The premiere of the second season of The Voice aired immediately following the game, retaining 37.6 million viewers across the country, making it the highest rated non-sports telecast in six years.

Before the game, country star husband-and-wife Miranda Lambert and Blake Shelton sang "America The Beautiful" and former American Idol winner Kelly Clarkson sang the National Anthem.
The Giants won the nail-biter of a game 21-17.
Watch Madonna's halftime performance: