Madonna's Racy Photos May Get Her Booted Off Instagram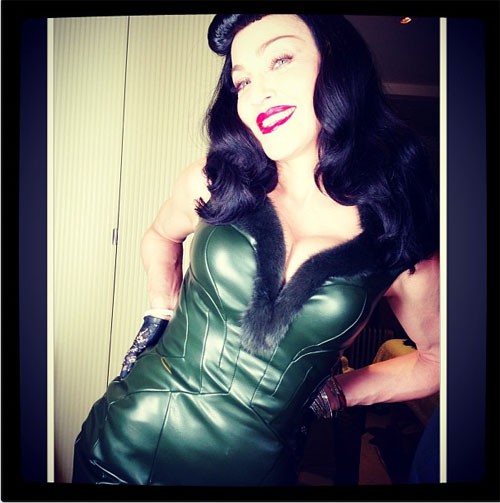 Leave it to Madonna to get too risqué for the internet. Photo sharing website Instagram has warned the pop star to be careful or they may shut down her account.
The singer joined the website earlier this month, posting a selfie and the caption: "Cheers motherf**kers! I'm on instagram." The scantily clad star posed for the camera while drinking a cocktail.
She's since uploaded images of her cleavage ("Addicted to sweat !!!!!" she writes) and an image of her butt with the caption: "Working on the edit of the live concert!"
The 54-year-old star received a warning from Instagram that she must follow the rules or her account will be disabled. She posted the notice for fans to read:
"It has come to our attention that your account on Instagram has violated our Community Guidelines... In short, we ask that you: Don't share photos that aren't yours. Don't share photos that show nudity or mature content. Don't share photos of illegal content. Don't share photos that attack an individual or group, or violate (sic) of our Terms of Use. We strongly suggest deleting any additional content on your account that may not fall in line with the above guidelines or our Terms of Use: We value these guidelines, and believe that they will help keep Instagram a safe & fun place for everyone. It is important to note that continuing to violate them may result in a disabled account, or discontinued access to Instagram, without warning."
But there's some good news for the pop star. She is the top money maker in music over the last 12 months. Madonna earned a staggering $34.58 million, largely due to her very successful "MDNA" world tour.