Madonna's 15-Year-Old Daughter Lourdes Plays Dress Up With Iconic Cone Bra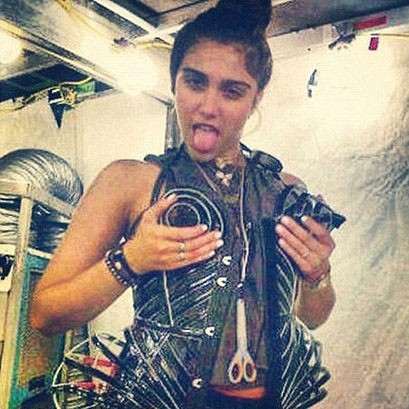 Madonna's 15-year-old daughter Lourdes had a little fun backstage during the singer's "MDNA Tour" Wednesday night after getting into her mom's wardrob and trying on her one of her iconic "cone bras."

Lourdes, aka 'Lola,' struck a goofy pose and tweeted the image Thursday morning with the caption, "Lola backstage at MDNA!"

The image was removed from the twitter page, but not before the photo went viral across the internet Thursday afternoon.

The Jean Paul Gaultier designed leather corset is a more modern version of the one he designed for her 1990 Blond Ambition Tour, which was gold satin.

The Material Girl's daughter was caught on camera earlier this year smoking a cigarette, and that image also quickly spread online. Madonna told newsman Brian Williams during an interview for his Rock Center news show that the images shocked her.

"I don't think I'm as tough as I should be," she said. "I think I need to be maybe tougher. It's hard though, it's hard, everyday is a negotiation. But cigarette smoking I'm not very fond of, for anyone.

"I don't approve of anyone smoking cigarettes - most of all my daughter."