Madonna To Perform With LMFAO At Super Bowl Half-Time Show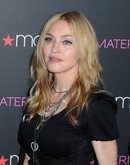 Madonna is set to thrill at the Super Bowl next month after landing LMFAO to join her during the coveted half-time performance.

The pop superstar is headlining the show at the football final in Indianapolis, Indiana on February 5th and she recently teased fans about the nature of her set by declaring, "Pom poms. That's all I can tell you."
 
Now, rapper will.i.am, whose band the Black Eyed Peas landed the big gig last year, reveals Party Rock Anthem hit-makers LMFAO will take to the stage with the Material Girl.

The star, who signed the duo to his will.i.am Music Group label, tells Britain's Capital FM, "I'm going to the Super Bowl this year to see my group LMFAO perform with Madonna. Check that out, will.i.am Music Group is pretty freaking two for two."

"One year the Super Bowl, the next year another group part of the Super Bowl in collaboration with Madonna. That's still happening."