Madonna Thumbs Her Nose At Boy Scouts By Wearing Their Uniform At GLAAD Awards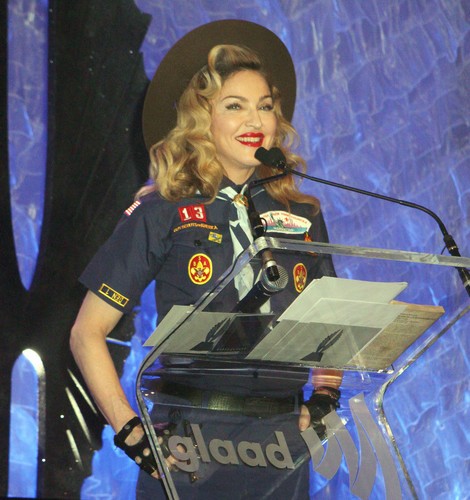 Madonna called for a "revolution" during the GLAAD Media Awards on Saturday night, criticizing the Boy Scouts' practice of not allowing openly gay scouts and leaders to join the organization.
The pop star took to the stage wearing a Boy Scout uniform, including a troop leader hat and replicas of Boy Scout badges. She gave a speech before giving the Vito Russo Award to openly gay CNN anchor Anderson Cooper.
She told the crowd: "When I think about young kids in America who are being bullied and tortured, who are taking their own lives because they feel alone and judged, outcast and misunderstood, I want to sit down and cry a river of tears.

"I don't know about you, but I can't take this s**t anymore. That is why I want to start a revolution. It's 2013 people. We live in America, land of the free and home of the brave? That's a question, not a statement."
The Gay & Lesbian Alliance Against Defamation awards recognize various branches of the media and their positive representations of the gay, lesbian and transgender community.
NBC's "Smash," reality series "The Amazing Race" and director Brett Ratner were all honored at the event. Earlier this month Ratner said in a statement, "I have long been a supporter of equal rights for everyone. I have always been an admirer of GLAAD. They do meaningful and effective work in the fight to secure equality for everyone and I am very humbled that they are honoring me with this Ally Award."