Madonna Picks Kelly Osbourne As New Face Of Material Girl Clothing Line (Photos & Video)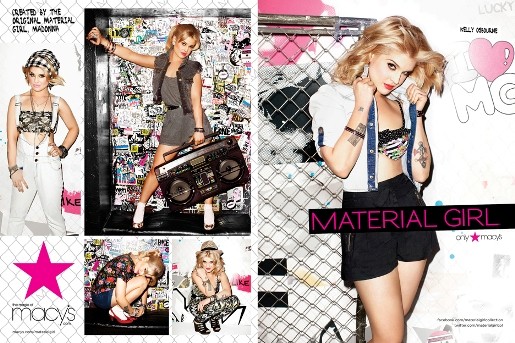 Poor Taylor Momsen! It looks like her "Gossip Girl" role isn't the only part she will be losing: she has a fashion dilemma too! Kelly Osbourne will now be the new face for the Spring 2011 ad campaign of Madonna's clothing line, Material Girl, replacing the smokey eyed Momsen with rock royalty instead. Lola, along with her famous 'material' mom, are the designing forces behind this juniors line available exclusively at Macy's stores.
"Kelly represents a true Material Girl. She is edgy, cool and has a unique sense of style that Lola and I love," reveals Madonna.
Adds Kelly, "It's such an honor to be a part of this campaign and it was an amazing experience to work with Madonna and Lola. Material Girl is incredible because it's high fashion but it's also accessible to anyone who shops at Macy's." Commenting on her style, Osbourne says, "I take so much of my style from Madonna in the 80's and I really admire how Lola dresses and that she stays true to herself."
Check out more of Kelly rocking her Material Girl looks below!