Madonna: More Nipples & Swastikas Land Material Girl In Hot Water In Paris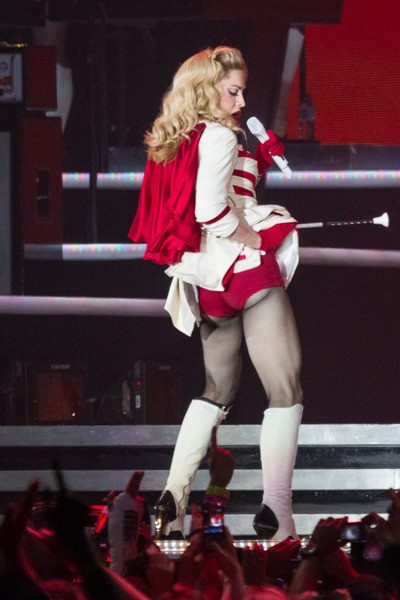 Madonna is facing a legal trouble in Paris after failing to heed warnings from French politician Marine Le Pen over an offensive image she's been showing during her concerts.

Last month the Material Girl angered Le Pen by including her likeness in a photo montage during her performance of "Nobody Knows Me" on the first night of her MDNA tour in Tel Aviv, Israel. One of the images included showed a swastika superimposed on Le Pen's forehead, and now the leader of the conservative French National Front party is planning to sue the pop superstar after she brushed off the warning and showed the image during her Bastille Day concert in Paris on Saturday night.

Le Pen warned the singer that there would be consequences if she used her image in the same manner at any of her concerts in France.

The politician's aides have confirmed that a case is being filed against Madonna for public humiliation in the coming days.

"We can't accept this! It's a very serious insult," says National Front vice-president Florian Philippot. "Marine Le Pen is defending her own honor, but also that of the Front National's members, its supporters and its millions of voters."

Philippot also told France's Le JDD (Le Journal du dimanche) that the National Front is obligated to react because of the serious accusations against her and her party that the image implies.

"[W]hat seems to me even more serious is the trivialization of Nazism, of something that is horrible. They are, after all, diffusing images of Hitler during a show to be provocative," he said.

After the first incident in early June, Le Pen issued her warning while taking a jab at Madonna.

"We understand how old singers who need to get people talking about them go to such extremes," said Le Pen. "We are not a Nazi party, and object to being depicted as such... If Madonna repeats this slur in France then she will certainly be taken to court."

And, of course, the singer once again exposed one of her breasts to the crowd during the show; something she did early in June at her concert in Turkey.

Madonna's tour is scheduled to hit the the French Riviera town of Nice next month. Do we hear two counts of public insult?


More on this story...
Madonna flashes the crowd (semi-nsfw)