Madonna: 'I Let The Giants & Patriots Open Up For Me'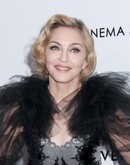 Madonna had to fight back tears as she performed her pop classic "Like A Prayer at" the Super Bowl last weekend after becoming "overwhelmed" by the "love" and "support" she received from sports fans at the Indianapolis, Indiana stadium.

The Queen of Pop staged a star-studded 12-minute spectacular during half-time, with special guest appearances by Nicki Minaj, M.I.A., LMFAO and Cee Lo Green, but Madonna admits her emotions almost got the best of her as she was joined by the "Forget You" hitmaker and an 80-strong choir for a rendition of "Like A Prayer."

During a radio interview with DJ Ryan Seacrest on Friday, she said, "I was overwhelmed. It was actually very emotional for me, I almost started crying.

"I felt an incredible sense of, I know it sounds cheesy, but like, warmth, love, support... Everyone's turning on their flashlights, holding up their phones, whatever... To see an entire stadium lit up like candles... it was like a religious experience, it was crazy."

And Madonna admits she was reluctant to leave the stage once her show was over to make way for the New York Giants and New England Patriots to resume their championship game.

She added, "And then of course, it was the end of the show and I didn't want it to end. Why did the Giants and the Patriots have to come back on and play, why? I let them open up for me!"

But Madonna is relieved the big gig is over because the preparation almost sent the singer and her manager Guy Oseary over the edge.

She said, "I have to say, preparing for the Super Bowl is one of the hardest things I've ever done. It was full of surprises and we had many, many challenges along the way and my manager, Guy, was here and he and I almost killed each other over it! It was like getting through a war and surviving and actually doing really well, winning the war!"