Madonna Endorses Obama During Washington, D.C. Concert, Clarifies 'Black Muslim' Comments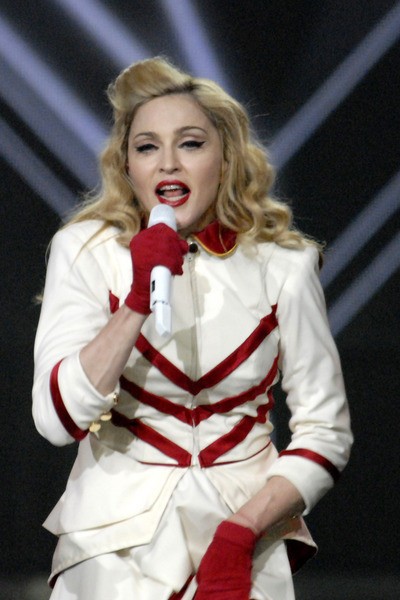 Madonna showed her support for President Barack Obama's re-election bid Monday night during her concert in the nation's capitol by comparing him to civil rights leaders like Abraham Lincoln and Martin Luther King, Jr. She spoke briefly about those leaders' accomplishments, referring to them as "prophets" and pinning the blame on society as a whole for their deaths ("They killed him - as they do").

But her comments to fans after that caused some controversy.

"Y'all better vote for f**king Obama, OK? For better or for worse, all right? We have a black Muslim in the White House," she told fans during the show. "That's some amazing s--t. It means there is hope in this country. And Obama is fighting for gay rights, so support the man, goddammit."

Her comments quickly made their way around the airwaves on Tuesday, and after the backlash over her remarks, she says she was just mocking those who believe the politician is a follower of Islam and out to destroy America.

"I was being ironic on stage," she said via a statement. "Yes, I know Obama is not a Muslim - though I know that plenty of people in this country think he is. And what if he were?

"The point I was making is that a good man is a good man, no matter who he prays to. I don't care what religion Obama is - nor should anyone else in America."

The Material Girl's comments during Monday's show aren't the first controversial statement she's made during her MDNA Tour -- earlier this year she was criticized heavily by the French government for superimposing an image of a swastika onto an image of French politician Marine Le Pen on the opening night of her tour in Israel; she flashed one of her nipples at a show in Istanbul; and she brought pistol and assault rifle props on stage with her in the wake of the movie theater massacre in Aurora, Colorado during a midnight showing of The Dark Knight Rises.

Last month singer Elton John criticized her in the wake of her controversies, including an instance when she accused Lady Gaga of copying her.

"Why is she such a nightmare?" He said during Australia's 'Sunday Night' show. "Sorry, her career is over. Her tour has been a disaster and it couldn't happen to a bigger c--t."

Elton thinks her career will be over after her current tour wraps up and referred to her latest look as that of a "f--king fairground stripper."