Madonna Considering Retiring - From Acting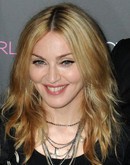 Madonna's much-maligned acting career appears to be over - the pop superstar admits she prefers to be behind the camera on movie sets.

The singer made her acting debut in 1979 and won acclaim and accolades for her role in Evita, but most of her more recent onscreen efforts have been mocked and hammered by critics.

Madonna was named the Worst Actress of the Century at the 2000 Golden Raspberry Awards and she has also picked up acting dishonors at the annual event for Body of Evidence, Shanghai Surprise, Swept Away and Die Another Day, among other movies.

And now she's considering turning her back on her acting career after directing her second movie, W.E.

She says, "I like directing better. If I write it and direct it, then it's my voice. If I'm the actor, I'm just a pawn."