Madonna Buys 50 Pizzas For Super Bowl Workers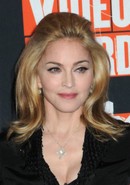 Madonna showed her appreciation to crewmembers working on her upcoming Super Bowl performance by buying them pizza on Wednesday.

The pop superstar will take to the stage for the half-time concert during the big game in Indianapolis, Indiana on Sunday and she has been hard at work this week putting the final touches to her act.

She reportedly thanked her staff for their dedication on Wednesday by placing a massive order with a local Papa John's fast food eatery, asking for 50 pizzas for all her workers, according to TMZ.com.

The website reports the bill came to more than $500, but restaurant staff gave the Material Girl a discount.