'Mad Men's' Season 7 Images - What Do They Mean?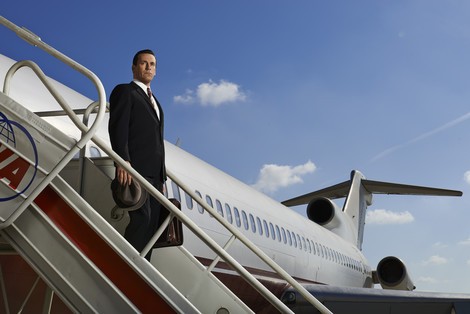 New promotional images from the upcoming season of "Mad Men" center on aviation. Don Draper (Jon Hamm) is pictured walking off a plane and also hanging out in an airport with Peggy Olson (Elisabeth Moss). He has Roger Sterling (John Slattery) as a seatmate and looks as if he's leaving the airport with Megan (Jessica Pare) clinging to his arm.
So what do they all mean? Not much.
According to show creator Matthew Weiner, they don't really mean anything - they're just meant to "evoke a feeling." The show's creator told The Wrap that the photos aren't from an episode nor do they "hint at plot developments."
He explained: "It's more designed as something we do every year before we launch the the show to present the characters in an abstract setting and remind everybody who's there, and show off our hair and makeup and costumes and photography and the incredible cast, in a way that whets your appetite for the show."
Thanks for nothing, Weiner.
Earlier this week, the key art for the show was revealed, featuring the iconic silhouette of Don holding a cigarette and looking at a psychedelic painting. Season 7 premieres on April 13 and hopefully picks up after Don leaves the ad firm. We can't wait.
Check out more promo shots...