'Mad Men' Season 7 Premiere: Vignettes And Playboy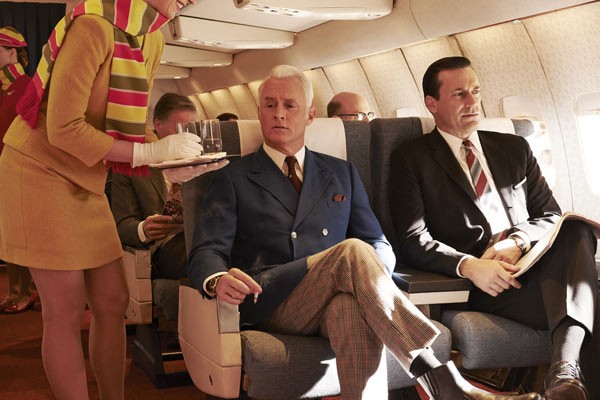 Mad Men was back with its seventh season last night - it will be its last, though presented in  two seven-episode parts, over two years.   As was the case with much of season 6, this first episode of the final season offered a compelling series of interlocking vignettes, rather than a single overarching narrative. Indeed, the plot barely moved forward, making the episode more like a sequence of still life paintings, brilliantly rendered, hanging on diverse walls, than a story across time.

Among the highlights of this new form of television story telling -


Don's slowly deteriorating relationship with Megan:  It was already on the beginnings of the rocks last season, and is moving along to break-up ever so exquisitely slowly.   Megan, out in Los Angles and receiving Don's visit, barely wants to sleep with him.  She might have been more open to Don, had he not been rushing back to New York the very next day on a red eye.  But, understandably, she can't quite see where their relationship can go with this series of in effect one-night stands.  For his part, Don flirts with a blonde real estate agent in LA who looks like a young version of Betty, and a woman on the red-eye, who looks like an older version of Megan, and whom he might even have wanted to have some sex with, if it had been confined to something on the plane.
Don's business is more blurry than a watercolor: he's still on leave, but pitching some kind of business, while he's still a collecting a check from what's left of the grand old firm.   The merger has made the firm even less recognizable than it was last year, giving it a faintly alien quality accentuated by Don, Roger, Bert, and Harry not on hand in the office - for different reasons - and Ken with a patch over his eye, courtesy of the hunting accident he had last season.   (Actually, I'm assuming Bert and Harry were absent for different reasons, because no reason was presented.)
Peggy and Joan are still having difficulty getting their good ideas accepted, again for different reasons.   And I've got to say that I found Joan's character more interesting than Peggy's in episode 7.1, because Peggy's problems seem a rehash of what we've seen in just about every season.
The visual details were outstanding, as they always are.   My favorite was seeing a copy of Playboy in Don's possession.  Let's see: its January 1969 - Nixon is being inaugurated - would have been cool had that copy of Playboy been the March 1969 issue with the McLuhan interview, and a tip of the hat to "the medium is the message" line that we heard to those many seasons ago on this series.  It wasn't, but its these resonances, real and imagined, that make Mad Men such a fine piece of television.
And it's great to see this series right back where it belongs: on television, not in our recollections - at least, not until after 2015.