'Mad Men' Recap: 'The Other Woman,' Joan's Sacrifice And Peggy's Bombshell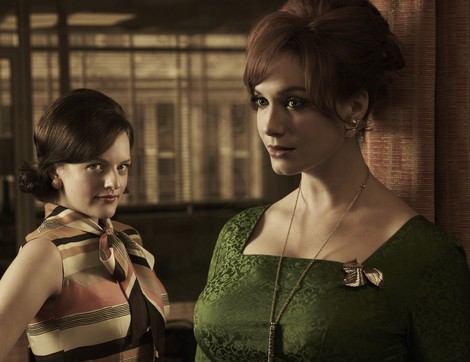 Who do you think is the identity of 'The Other Woman'? Is it Joan, who offers herself to another man for enough money to change her life? Is it Peggy, who is in some way Don's emotional mistress? Is it Pete's love affair with Manhattan? Or is it Jaguar, that thing of beauty that can at last be truly owned?
Joan and Jaguar's stories are intertwined. Don and his staff (excluding Peggy, who is in charge of all other accounts) are struggling to come up with a memorable and sellable tagline. It's decided that the luxury car should be viewed as a mistress of sorts, but should never be mentioned as one. That doesn't seem to help them narrow it down.
The pressure's on since landing Jaguar would be huge.  It becomes all too clear at a meeting with Herb, a member of the selection committee, that a deal will require some dirty business. He tells Pete and Ken that he would be strongly influenced if they could arrange an evening for him with Joan.
Pete, of course, doesn't waste any time throwing the idea out there to Joan, who calls the proposal "prostitution" but also says that they could never afford to pay her enough for doing such a thing. Pete shares the news with the partners, too. Don gets pissed and walks out of the meeting, but the other reluctantly agree to let Joan decide for herself – with an added bonus of $50,000.
Lane (perhaps selfishly) tells Joan that she should settle for nothing less than something huge – perhaps a 5% stake as a partner in the company. She later agrees to the deal with Pete and goes through with it, despite seeming to find Herb rather repulsive.
Don shows up at Joan's apartment to tell her she doesn't need to do it, but as we later learn, the deed has already been done. She seems to appreciate his objection to the idea. When SCDP lands the account (thanks to Ginsberg's tagline: "At last, something beautiful you can truly own"), Don is joyful along with everyone else – until he realizes what Joan has done.
Since he's been caught up with all the Jaguar drama, Don ignores Peggy and snaps at her any chance he gets. After he literally throws money in her face, she visits with our old friend Freddy, who encourages her to shop around at other agencies. She does, and gets an enticing offer as chief copy writer for $19,000 (not a bad chunk of change in the mid-60s).
The scene when she tells Don that she is leaving is a classic, up to par with Elisabeth Moss and Jon Hamm's work in last year's brilliant episode 'The Suitcase.' Peggy reluctantly tells Don what she has decided. Don is at once mystified, heartbroken and nasty. He tells her that she would have gotten nowhere without him, but kisses her hand as he fights back tears. "Don't be a stranger," she says as she walks out. When she boards the elevator, she's grinning.
There are only two episodes left of the season. A few burning questions: Is Peggy really leaving? Will Joan be forced into more encounters as a "partner"? And when will Lane's financial troubles finally fall out into the open?