'Mad Men' Recap: 'Tea Leaves' - Betty Has Weight And Health Issues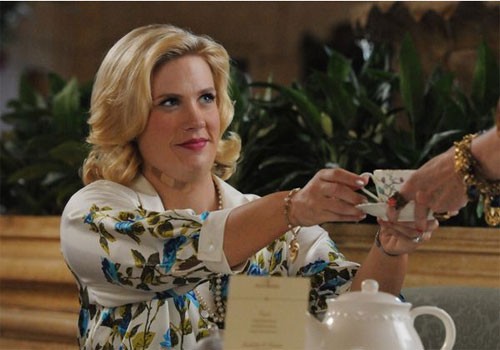 Here are two words I never thought would go together on 'Mad Men': Fat Betty. Unseen in the season premiere, Betty has indeed plumped up. She's clearly upset about it and doesn't seem to know what to do with herself. Her mother unhelpfully suggests she try diet pills, while her doctor at first tells her that sudden weight gain is a common problem for bored housewives. What a simple explanation.
But then he finds a lump in Betty's throat, and then "Betty might have thyroid cancer" lingers through the episode. In the end, she apparently finds out she doesn't have it and tells her husband she's "just fat." Or is she holding back about what exactly the doctor told her?
She doesn't hold back to Don, and even calls him when the discovery panics her. Don seems genuinely worried but tells her everything will be okay. It seems to be what she wants to hear.

Over at Sterling Cooper Draper Pryce, Don has hired a new (black) secretary, Dawn. The Don/Dawn thing doesn't seem to bother either of them. It's a refreshing change of pace in Don's long line of secretaries. When you think that they've included Peggy, Megan and Mrs. Blankenship, he's really had a vast array of assistants.
Speaking of Peggy, she's put in charge of hiring a new copywriter since she's swamped. She's intrigued by the work of one Michael Ginsberg. His portfolio is excellent, but he leaves a little something to be desired when it comes to social skills. (Or maybe it's just sexism of the day.) In his interview he ignores her questions and asks why he isn't seeing Don, whom he views as some sort of God. Eventually, he apologizes in his non-apologetic way. He's the New Guy in Town, and it's possible he could become Peggy's rival.
Oh, and let's not forget the Rolling Stones. The high maintenance Heinz client wants Don to ask them if they'll participate in a TV ad. Don reluctantly agrees to go to the Stones concert with Harry (sorry, you're on your own for dinner, Harry), who ineptly signs another band instead.
Pete, however, successfully re-signs Mohawk, and gives himself a self-congratulatory speech that prompts Roger to storm out. It's difficult to know what's more self-defeating: Pete's smug, supposedly newly realized self-worth, or Roger's inability to be productive and accept help when he needs it.
What did you think of 'Tea Leaves'? Is Betty destined to be a pill addict? Is Peggy about to get a new competitor, or perhaps love interest? Will Harry ever be successful at anything ever again? And is Don and Megan's marriage headed for trouble if Betty returns to his life?