'Mad Men' Recap: 'Signal 30' And Pete's Downward Spiral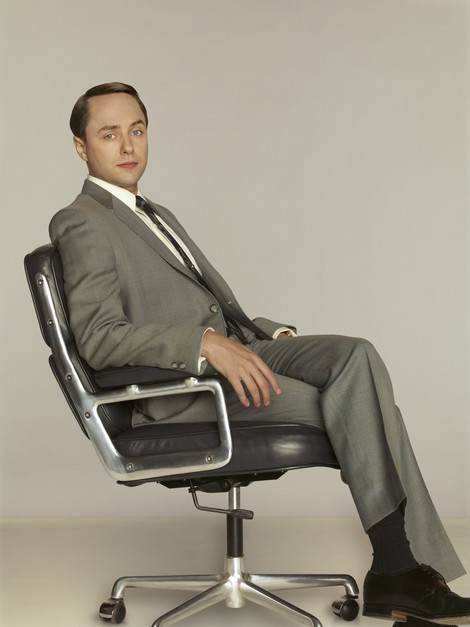 "I have everything," Pete Campbell says to himself in 'Signal 30.' And by the finale, the petals have certainly fallen off the rose.
All seems to be going well for him. He's attracted to a young student in his driver's ed class, where they both laugh at the instructional video (titled 'Signal 30'); he feels like a handyman after he fixes a leaky faucet in the middle of the night; and Don finally "accepts" his invitation to come over for dinner ("Accepts" meaning he calls to cancel, but Trudy won't let him out of it).
Ken, meanwhile, somewhat secretly disses Peggy at a café, where she thinks he's excluding her from a client meeting. It turns out that he's trying to advance his sci-fi writing career, which is later brought up at dinner. Ken seems almost embarrassed by it, but he later finds that he can't put out his passion for creative writing.
Back to Pete: he's feeling pretty much like the bomb at work, where he's racing ahead of Roger in the ad game, and so Pete thinks, ahead of Lane, too.
Lane also seems to be in good spirits. He's got a friend who may be able to help him land Jaguar as an account, and Roger gives shockingly helpful advice: Relate to him in some way or another at a client dinner, make sure he's got plenty to drink, and hit at his weak spot. Unfortunately, that's easier said than done, as Lane soon finds out.
Instead, Pete, Don and Roger take the potential client to a party, where he gets laid. That seems to make him happy, although Lane doesn't see it that way.
Here's where Pete and Lane's high spirits take a nosedive. Pete, fresh off watching Don re-fix his faucet at dinner, is challenged to a fistfight by Lane, who's sick of Pete using smarmy tactics and taking credit for clients. Lane is the "victor" in this fight, but they're both fairly well beaten up. Lane even makes a pass at Joan, and while it's embarrassing, she goes quite easy on him.
Oh, and did I mention that Pete's girl from driver's ed has found a handsome dude, named, appropriately enough, "Handsome"? By the end of the episode when Pete is riding down the elevator with Don, he is literally crying as he says, "I've got nothing."
What did you think? Is this a strong showcase for Pete? And is Betty doomed to lurk in the shadows once again this season?