'Mad Men' Recap: 'Lady Lazarus' And Office Angst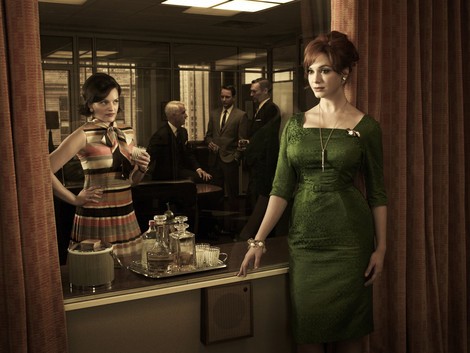 There's a lot of angst at the heart of 'Lady Lazarus.' Megan can't stand advertising and yearns to return to acting; Pete is apparently unhappy in his marriage and seeks another lover; and Peggy grows upset about Megan's departure and the way she thinks Don takes it out on her.
Let's back up. Megan is downright secretive throughout the first half of the episode. She's clearly hiding something from everyone, but just what is unclear until Peggy catches her in a lie. Megan tells Don that she's working late, but then tells Peggy that Don wants her home for dinner. A flustered Peggy avoids multiple calls from Don (did you laugh out loud when she blurted out, "Pizza House!"?) but later confronts Megan about her misstep.
Peggy's pissed, but mostly because she knows Megan has talent. Megan finally confesses to Don in the middle of the night that she lied because she went to a callback audition (for a part that she didn't get) and that she is unhappy at the office and wants to act full time. Don is reluctant, but says she should do what she wants to do.
The next day, Megan tearfully says goodbye and packs up her things. After she leaves, Don watches as another set of elevator doors open to an empty shaft. He gazes down at it. It sets off an unsettling feeling, but we all know that 'Mad Men' is not about to pull a Rosalind Shays.
Pete, meanwhile, sees his acquaintance Howard on the train on the long commute. Howard brags about enjoying affairs in an apartment in the city. Pete brushes it off, but when he encounters Howard's wife (well played by Alexis Bledel), who's locked herself out of her car, he does what we would expect Pete to do. He pursues Howard's wife.
He has sex with her, and she seems to like him, but she also firmly says that it can never happen again. Pete is persistent, but she stands up his offer to meet him at a hotel. Later, when he sees her sitting in the passenger seat of Howard's car, she draws a heart in the steamed glass and erases it. Might we see her again?
Back at the office, SCDP folk are working on a campaign pitched by Ginsberg. The client wants Beatles-like music, but the task is harder than it sounds. Cool Whip also wants the "Mr. and Mrs. Draper" bit in which the couple explores the delights of non-dairy whipped topping. Don and Peggy later recreate this in front of the client, and Don is none too pleased when Peggy botches her lines. She yells at him to "shut up" and hints that he's really mad at Megan.
Still, no Betty, although the preview suggests she'll finally return in next week's episode. Despite Peggy's attitude, her honesty seems admirable. And Don appears to be much more mellow this season.
What did you think of 'Lady Lazarus'?