'Mad Men' Recap: 'Dark Shadows' And Desperation All Around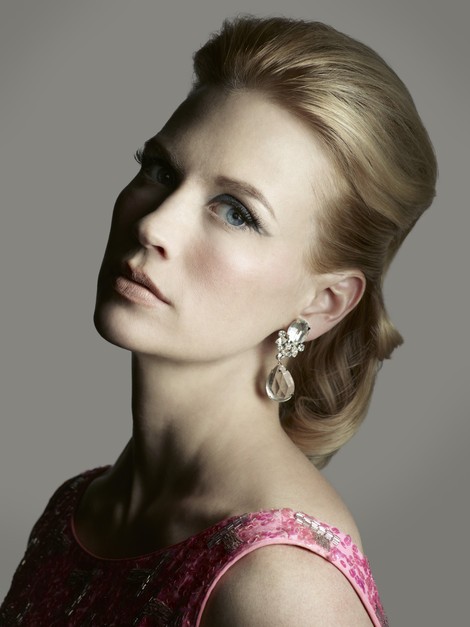 In 'Dark Shadows,' Betty grows jealous and irritable while trying to watch her weight, Pete fantasizes about a virtual stranger amid his failures, and Don does something almost as underhanded as Betty. You know the end of the season is approaching when characters get evermore desperate.
Let's start with Betty. She's faithfully attending Weight Watchers meetings and seems slimmer since the last time we saw her.  It's clearly a strain on her: She catches herself spraying whipped cream into her mouth straight out of the fridge and results to telling Sally one of Don's secrets out of jealousy of his new relationship with Megan.
While Sally is creating a family tree for a class assignment, Betty tells her to include Anna, Don's first, deceased wife. Of course, Sally knows nothing of this and asks about it. Betty tells her to ask Megan. Sally does, and gets mad at Megan for keeping a secret and failing to reveal everything.
Don gets mad when Megan tells him, too, until Megan convinces him that calling Betty would be a bad idea, noting that Betty "wins" in poisoning the family if she gets his goat from the suburbs.
At the office, Pete excitedly tells Don that the New York Times wants to interview him about "hip" agencies to work for. However, the article actually never mentions him at all, although Pete does fantasize about Beth, the woman he recently slept with. It makes one worry (yes, worry) for Pete's well-being. He's certainly depressed of late.
Don, meanwhile, seems to be growing jealous of Ginsberg. He comes across Ginsberg's work for Sno Ball late one evening and decides to come up with something better. Even though the team agrees to pitch both ideas to the client, Don leaves Ginsberg's ideas in the cab, and Sno Ball goes with Don's creations. Ginsberg is furious, telling Don that he feels bad for him, but Don's retort is more powerful: "I don't think about you at all."
Speaking of desperation, Roger continues bribing employees for his own bidding. This time, his victim is Ginsberg, whom he enlists to help him with an ad campaign for Manischewitz wine. Roger also enlists soon-to-be ex-wife Jane and manages to charm her into bed in her new apartment, which he secures for her as a condition to joining him for dinner. But now her memory of him is there, too, which defeats the whole purpose of getting a new place, she tells him.
Even the secondary characters in 'Dark Shadows' – Ginsberg, Jane and Henry – seem on the verge of breaking down. With all this angst, where will the final episodes lead us? Confrontations are promised, sure – but what else?