'Mad Men' Recap: 'At The Codfish Ball' And Sally's Quick Adulthood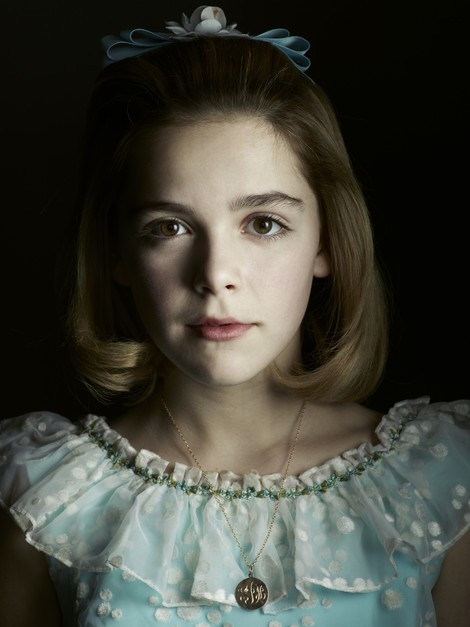 Sally Draper is perhaps the most mature person in many of her scenes in 'Mad Men,' even though she's just a kid. There's a lot going on behind those eyes, never more so than in 'At the Codfish Ball.' Sally is thrown into extremely adult situations, yet she remains composed. She appropriately calls everything she's experienced in the city "dirty."
The reason she's involved in much of the episode is because Henry's mother breaks her ankle after tripping over a cord, and Sally performs well under pressure. Betty and her husband are not mentioned, so they're God-knows-where. Sally and her siblings accordingly go to Don and Megan's, which is already crowded with Megan's visiting parents.
The French-Canadian couple bickers to no end in both English and French. Megan seems embarrassed by their follies. Her father Emile is apparently more open to his students than to his wife, who competes for his affections and is flirty with Don. And later, Roger.
Back at the office, Peggy gets panicked when Abe calls to invite her dinner to talk something over. She confesses to Joan that she thinks he's going to break up with her, but Joan and her life experience drive home a valid point. "Men don't take the time to end things. They ignore you until you insist on a declaration of hate," she explains.
Joan thinks Peggy is about to get a proposal, so Peggy goes out and buys a pretty dress. She doesn't get a proposal, but she does get a "let's move in together" vote of confidence. She's okay with it, but a dinner with her mother shows that the matriarch is not. Peggy rationally explains that she wants to let her mother know what's going on, but Katherine counters that she'd rather be lied to. Real mature.
Meanwhile, Megan out of the blue comes up with a stroke of genius for the Heinz campaign. She envisions a flash of generations, past and future, of Heinz customers enjoying the product. The tag line: "Heinz beans, some things never change." Don loves the idea.
At a dinner, Megan learns that Heinz is about to fire SCDP, so she and Don pitch the new Heinz idea, which goes over surprisingly well.
At an ACS event honoring Don, sparks fly between Megan's mother (adeptly played by Julia Ormond) and Roger. So much so, in fact, that the series' first – and probably only – scene of fellatio occurs when Sally walks in on Roger and Marie's mother. Poor kid.
Sally recounts her experiences to Glen, the creepy neighbor kid who once requested and received a lock of Betty's hair. Sally has no one better to confide in, which is in itself somewhat profoundly sad.
The show seems to be on a roll this season with a variety of viewpoints, storytelling devices and compelling performances. While Don's dark past appears to be behind him, it seems poised to re-emerge at some point. And is Sally headed down a dark path of her own?