'Mad Men' Recap: 'A Little Kiss'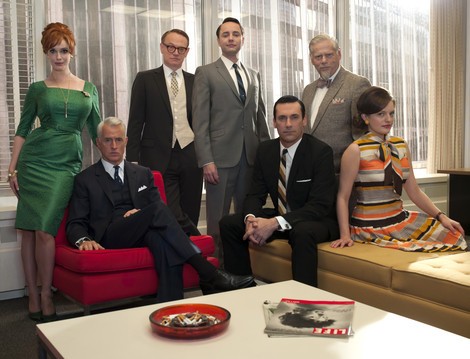 After shrouds of secrecy and an agonizing 17-month wait, 'Mad Men' returned to the airwaves on Sunday with an episode titled 'A Little Kiss.' And it was worth the wait for fans to pucker up.
For 'Mad Men' watchers wondering how far in the future the plot would pick up, the question was answered fairly quickly. At Don and Megan's new digs, Don's three kids sit on bar stools for breakfast. Gene looks to be about two to three, so we can guess the action is perhaps a few months to a year or so into the future.
Betty is nowhere to be seen, although Don does drop the kids off at her ginormous house. Her husband isn't referred to except Don's reference to "Lurch," but judging by the house, Betty seems to be doing well for herself.
Don and Megan do too. Don's life in Suburbia has been replaced by his posh, modern apartment in the city. He seems happy – so much so that he's become a rather "nice guy" as Peggy says. But that changes when Megan decides to throw him a surprise 40th birthday party.
Peggy, for one, knows it's a bad idea, but she can't dissuade Megan from doing it. Rather unsurprisingly, the party is fun but a bit of a disaster. Roger and Jane arrive late and ruin the surprise, and Megan's unexpected song-and-dance rendition of "Zou Bisou Bisou" leaves Don blushing. It also provides amusing office banter for Harry, who makes some rather lewd comments which Megan overhears.
Don is unappreciative of Megan's gesture and downright mean when he tells her it was a waste of money. Megan doesn't seem too fazed, but she later unravels when she suspects the other office folk don't like her. Her cleaning the apartment in her underwear seems to reignite Don's passion for her, but it makes us wonder how functional their relationship will be in the long run.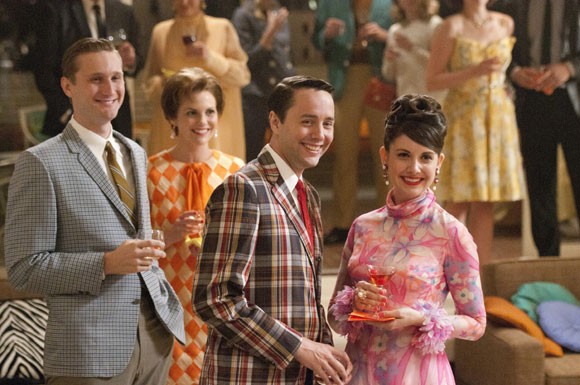 Joan, meanwhile, is having some relationship problems of her own. Not with her husband, who is off on a tour of duty, but with her mother, who has come to visit. While she relieves Joan of the lack of sleep that comes with new motherhood, she encourages her to quit her job and plants worry in Joan's head that Sterling Cooper Draper Pryce no longer needs her.
When Joan returns to the office for a visit, Lane puts her worries to rest. He does have his own preoccupation, though: He finds a wallet in the back of a taxi and is taken with a photo of a woman he finds inside it. Her name is Dolores. He calls the owner of the wallet but speaks with Dolores, and he's clearly intrigued by her. He keeps the photo when the wallet's owner comes to the office to retrieve it.
Peggy appears to stumble with her most high-profile account, Heinz. In retrospect, her "bean ballet" idea does sound silly, but the Heinz representative is a prototype for a SCDP client: old, stiff, and habitual. That means he hates the idea, and Peggy is nonplussed when Don doesn't come to her rescue.
Meanwhile, Pete is moving on up at SCDP. He's taking on more clients, and seems annoyed when Roger shows up at a meeting unexpectedly. He comes to suspect that Roger is trying to hone in on his clients by peeking at his calendar. He appears to be right when Pete devises a prank to get Roger to show up at a fake 6AM meeting.
Pete also, perhaps rightly albeit smarmily, complains that since he is taking on more clients, he should have a more presentable office. He boldly demands that he and Roger should trade offices, but Roger will have none of it. But Roger manages to con (or bribe) Harry out of his.
And we haven't gotten to what frames the episode and what hints of racial themes this season may present. At the opening of 'A Little Kiss,' African-American protestors chant outside SCDP rival Y&R's office building about equal opportunity employment. The Y&R employees, with all the maturity of college jocks, drop water bombs out the window onto the protestors.
When the firm gets bad press, SCDP decides to give them a little jab by advertising the firm as an equal opportunity employer. But there are repercussions: Dozens of black job applicants show up at SCDP's offices days later. As a "solution" the execs decide to collect resumes from the women for a fake secretary position, and send the rest home. The awkward situation hints of tensions to come and perhaps foreshadows how some characters might deal with them this season.
To sum it up, this episode is really about insecurity, is it not? Don feels a bit shaky with his new marriage and Megan doesn't fare much better with her job; Lane doesn't seem particularly happy with his marriage since he's obsessed with a stranger; Joan is afraid her job has become obsolete; Peggy worries about Don and apologizes over relatively forgettable snide remarks; Pete wonders how he fits in with his growing role with the company, while Roger rather pitifully wonders what will happen with his shrinking one; and Harry's afraid he'll get canned for making fun of Megan.
All of this suggests that the characters are in rather unsettled places. That's too bad for them, but it's good news for us. 'Mad Men' is at its best when its characters agonize, and this season promises plenty of that, despite the fairly light and funny tone of the season opener. And just think: We haven't even seen Betty yet, and she's sure to bring plenty of angst to Season Five's table.