'Mad Men' Finale: 'The Phantom' Of A Season Ender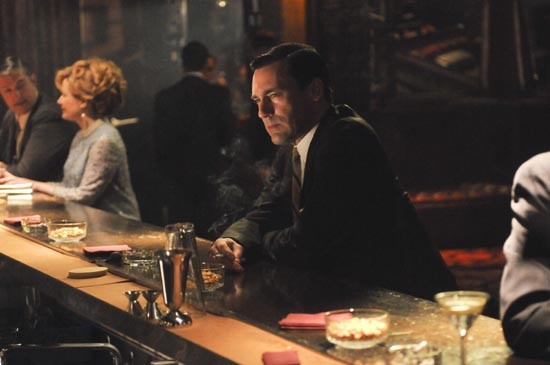 'Mad Men' showrunner and writer Matthew Weiner clearly enjoys ambiguity. There are no easy answers on the show, and if he wants viewers to talk about the meaning of things, he usually succeeds. With last night's season finale, 'The Phantom,' he does it again, although as a finale the episode wasn't particularly eventful, and some might say it lacked… finality.
So what is that "phantom," anyway? Is it that unease gnawing at Don after Lane's suicide that takes the form of pain from a toothache? Is it Lane? Is it Pete's mistress, Beth, who is a ghost of her former self after electro-shock therapy? Is it Don's brother Adam, who keeps popping up in Don's subconscious? Or is it Don himself, who as a husband hovers over his marriage, giving only when he feels like it and is perhaps holding Megan back?
For an episode that is filled with some good news (SCDP's profits and potential move, Peggy's job success, etc.) the tone certainly is melancholy. Naturally the mood in the office is subdued after Lane's death, and while it's rarely mentioned, the shock is palpable.
Lane's death results in an insurance payout in the amount of $175,000, which will help SCDP move into new offices on another floor. But Don wants to give $50,000 of it to Lane's wife, since Lane gave that amount to the company after it lost Lucky Strike.
Grateful she is not. Her closing line at the end of his visit says it all: "Don't leave here thinking that you've done anything for anyone but yourself." That just might be true. While her view that the company somehow "corrupted" Lane isn't entirely accurate, she has a point about Don's intentions. And she doesn't take any steps to relieve his guilt.
Pete, meanwhile, runs into Howard and Beth on the train. She later calls him at his office and arranges a rendezvous. They sleep together, but it will be for the last time. Because she's been feeling "blue" she's decided to go through with electro-shock therapy. When he visits her afterwards, she doesn't remember him. Starting over with her doesn't seem like an option for Pete at this point.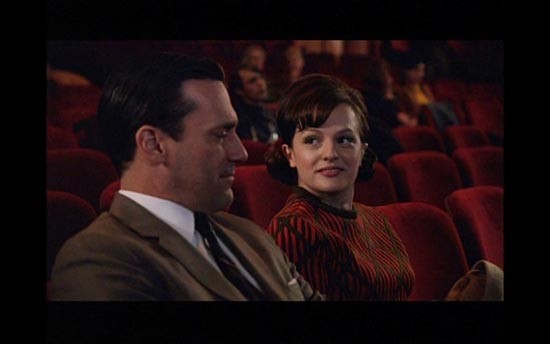 He lashes out at Howard on the train about it, resulting in another face punch. (Many viewers would argue he deserves more.) When he tells Trudy that he drove his car into a ditch, she acquiesces to his request for an apartment in the city. I guess we know what Pete's main storyline will be for Season 6.
Megan begs Don to recommend her for a commercial that her friend wanted to try out for. He's reluctant, and Megan's visiting mother Marie (the spot-on Julia Ormond) chides him for not being more supportive. In the end he gives in.
But he's clearly not happy. The loss of Lane eats at him (in the form of Adam, perhaps) and when he runs into Peggy in a movie theater, he says that he never pictured her success without him. It's a sweet scene, but it's also a reminder that there's one less person in his life who really "gets" him.
After grinning at Megan's audition reel and then kissing her when she's filming the commercial, he does what he does best: He goes to a bar, where he's naturally hit on by women. "Are you alone?" one asks him. We don't hear his answer.
Where last season's finale, 'Tomorrowland,' ended with bright hopes for the future (and Don's new marriage) this season has little optimism to go out on. If previous season gaps are any indication, the show will return a year or so into the future.
What could happen by then? Will Don and Megan even be together? Will Peggy be back at SCDP? Will the company be bursting its britches at its new location? Will Betty and Sally be a part of Don's life?
It's a testament to Weiner's talent that the answer is "who knows?" and will probably be the opposite of what you'd expect. Still, after two stunning episodes involving Joan's business deeds and Lane's suicide, it's hard not to view 'The Phantom' as just that: A reminder that the season was full of trauma and surprises, but that it ends with more of a whisper than a scream.