'Mad Men' Beauty Buzz: January Jones' 'Betty' Hair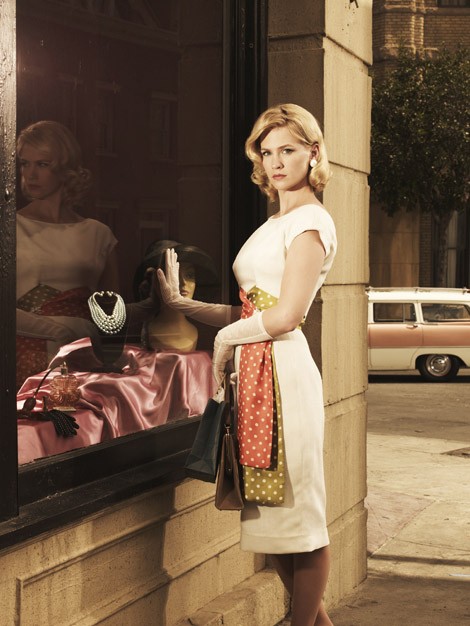 From the fashion to the hair, the style community is buzzing over the Season 5 premiere of "Mad Men". Starpulse caught up with "Mad Men" Hair Department Head Stylist Terrie V. Owen to get the sccop for her on-set hair how-to for achieving January Jones' signature "Betty" style.
Terrie's Recipe for Betty Draper Hair:
This style is best for shoulder length hair.
You will need:
-Small metal or plastic clips to hold your curls
-Setting spray: I use White Sands Liquid Texture Thermal Styling Spray.
-Medium sized hot rollers or a 3/4 inch curling iron
-Medium hold crème product like Bumble and Bumble Grooming Crème
-Hairspray
Part the hair on the side you want it to be and section the hair parallel to the side part in small sections. Spray with White Sands Liquid Texture Thermal Styling Spray and curl each piece towards the face. Make sure you take small sections that are neat and tidy and curl the entire head. This is an important step: clip your curl with your small clippies in place before you move to next section.
For hot rollers, section pieces of hair, spray with White Sands Liquid Texture Thermal Styling Spray and set roller parallel to the side part. Place rollers throughout the sides and back of the whole head.
Let the hair cool off a bit before you brush it out. This helps the set to last longer.
Then, brush hair straight down with a good quality natural bristle brush. I use a Mason Pearson brush (Brushes are important because a plastic vent brush doesn't give the same effect). Brush into a smooth style and push the waves into place with some grooming crème on your fingertips and then finish with some hairspray to hold the look in place. You can also modernize this style by just using your fingers to style your hair instead of a brush and get more of a textured piecey look.
But I personally love the classic smooth brushed-out look. Classics never go out of style! Who doesn't want to look like a glamour girl?!