Macy's 2009 Thanksgiving Day Parade: Meh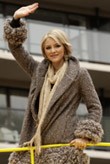 So, in the spirit of Turkey Day and all that is holy in the holiday season traditions, I got up too early to watch the Macy's Thanksgiving Day Parade along with an equally weary Liz Lewis. This year was pretty run of the mill.
Like all years past, NBC rolled in with semi truck filled with shameless plugs, an overload of NBC promotions, and puns corny enough to even make younger kids grimace. The route changed, to the chagrin of all those with pricey Broadway real estate who look forward to this fall classic, and the cast of
Glee
was glaringly absent. With NBC bringing out some real stretches (
30 Rock
newbie, Cheynne Jackson for one) to serenade millions of people, we would have like to wake up with the cast of "Glee," as they were in the line-up before NBC pulled their way-too-popular plug.
Commentators
Matt Lauer
,
Al Roker
, and
Meredith Vieira
gave colorful commentary throughout the show, with Lauer and Viera sitting on 34th St. until Roker made his way through the crowd to the booth. Luckily this year came with pleasant weather, so there were no awful hats. This is now, however, the one time of year I miss Katie Couric. Meredith Viera is not enough of a veteran to drown out some of the Lauer. Something people look forward to is Al Roker's sometimes ad libbed questions. Here are a few of the classics from this year:
Roker (out in the crowd): asking Linus Roache ('L&O'), "Have you ever seen balloons this big?" (Roache is from England, and therefore apparently alien to Thanksgiving and massive balloons)
Roker also asks NBC "celebrity" Jillian Michaels ('Biggest Loser') how to deal with food on Turkey Day, to which she obviously responds, "throw away leftovers."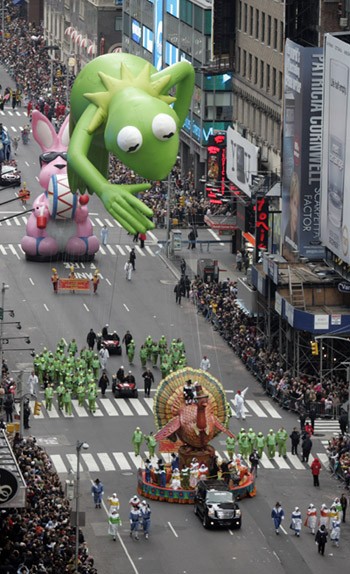 Balloons
There were no accidents this year, even with the route change, however there were some new and returning balloons that came with a sprinkling of punned commentary from Matt Lauer.
Kermit the Frog
Energizer Bunny
Sailor Mickey
Strange pirate
Ronald McDonald
Shrek
Hello Kitty
Horton the Elephant
Dora the Explorer
Spider Man
Smurf
Buzz Lightyear
Spongebob Squarepants
Pillsbury Dough Boy (new balloon)
Snoopy as the Flying Ace
Big Balloon Heads Pilgrim Man and Pilgrim Woman ("talk about inflated egos"-Lauer)
Abby Cadabby
Pikachu
Dachshund
Santa
Macy's Holiday Elves
Floats
Again, the floats were as average as the balloons.
Ocean Spray float
123 Sesame Street- 40th Birthday- 35th consecutive year in parade
M&M's on Broadway- incl Spamalot, Chorus Line, Wicked
Big Apple
Bountiful Harvest Cornucopia
Doodlebug
Tom Turkey- Food NETWORK float
Hamburger Helper- Hometown Hero Float
Intl Celebration Build-a-Bear Float
Satue of Liberty- Miss America Katie Stam and the NYC marathon winner
Castle of Dreams- Princess Academy
Cheerleader "Go" float
McDonalds
Hess
Speed Racer (drove to Macy's)
Yo Gabba Gabba
Jimmy Dean's Breakfast Float
Jolly Polly Pirate Ship
Turtle Legend - Iriquois Dancers Oneida Indian Nation
Gibson Guitar
Peanuts
Macy's Holiday Express
Big Apple Circus
Planters Nut Mobile
Care Bears
Marion Carole Showboat
Skating Rink
Smurfs
Singers
Andrea Bocelli
stole the show this year, but I was really disappointed in the misuse of Broadway and film great, Alan Cumming. Here is the rundown of singers along with some of their floats.
Jane Krakowski
(Ocean Spray Float) "30 Rock"
Mitchel Musso
(
Hannah Montana
)
Cast of
Sesame Street
Jay Sean
(Hometown Hero Float)
Keke Palmer
(Build-a-Bear)
Alan Cumming
(M&M float)
Cindy Lauper (Princess Academy float)
Half Time from the Nets Senior Citizen dance team
Gloria Gaynor
"I Will Survive" (Cheerleader "Go" float)
Boys Like Girls
(Hess float)
Cast of 'Yo Gabba Gabba'
Katharine McPhee
(Jimmy Dean float)
Ziggy Marley
(Pirate Ship)
Jimmy Fallon
and
The Roots
(Gibson Guitar float)
Billy Corrington (Macy's Holiday Express)
Cheynne Jackson (Big Apple float) "30 Rock"
Carly Simon
(Care Bears float)
Andrea Bocelli (Skating Rink)
John Pizzarelli
(Marion Carole Showboat float)
Tiffany Thornton and Kermit the Frog (Cornucopia float)
Broadway Shows
The selection of shows this year was the most frustrating to watch. 'Hair', 'Billy Elliot', and 'Bye Bye Birdie' should have chosen stronger songs. 'Billy Elliot' barely even showcased its title character.
Hair "Aquarius"
Bye Bye Birdie (with John Stamos) "Put on a Happy Face"
Shrek "I'm a Believer"
Billy Elliot "Shine"
Marching Bands/Performers
First marching band/actual parade started almost an hour in, as usual, and featured a good variety of music.
Macy's All American Marching Band
Florida high school performed "Defying Gravity"
Murraysville, PA "Diamonds are a Girl's Best Friend"
From Kentucky Columbia HS "Respect"
1st High School from DC to be in the parade "Thriller"
Pittsburgh HS Pittsburgh, CA
Morgantown, WV "Country Road"
Spirit of Long Island Drill Team
Mike Miller Dance Team
NYPD Mounted Police
NYPD Police Academy Marching Band
Mardi Gras Stilt Walkers
Harrison HS Marching Band, GA "Sweet Georgia Brown"
Emily Hughes (figure skater) (skating rink float)
Towson HS
Stage Door Manor
Celebrities
As usual, it is loaded with NBC stars. And ONLY NBC stars, which is unfortunate considering their less than banner year.
Cast of
Mercy
(
Michelle Trachtenberg
and two unrecognizable actresses)
Anthony Anderson
and
Linus Roache
from
Law and Order
Original Recipe
Jillian Michaels
(
The Biggest Loser
)
Rashida Jones
and
Nick Offerman
(
Parks and Recreation
)
Radio City Rockettes
Cast selection from
Days Of Our Lives
Santa
The best part of this year was the unveiling of Santa's new sleigh. It is called the Departure from the North Pole, and is a welcoming change from the traditional version.
Image © AP Photos
Story by
Sarah Lafferty
Starpulse contributing writer
Follow Sarah on twitter at
starbuckscout
.