Macklemore & Ryan Lewis Face Daft Punk Challenge On Billboard Hot 100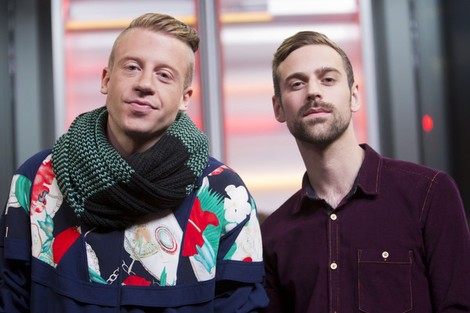 Macklemore & Ryan Lewis are enjoying a third straight week at #1 on the Billboard Hot 100, but fellow duo Daft Punk are crashing the party.
The rap duo's "Can't Hold Us" took away the top spot from Pink's "Just Give Me a Reason" three weeks ago. Pink's tune has held the second spot since, followed by Justin Timberlake's "Mirrors," Bruno Mars' "When I Was Your Man," and Rihanna's "Stay" in the top five.
Daft Punk, meanwhile, has hit the top ten for the first time in the renowned techno duo's history. They took the 10th spot with "Get Lucky," 51 spots better than their all-time best - "Around the World" and "One More Time" both reached the 61st spot over 10 years ago.
Macklemore & Ryan Lewis made their own history, becoming the only duo in history to top the chart with its first two singles.