Macklemore And Ryan Lewis Rock NYC Bus To Promote The Grammys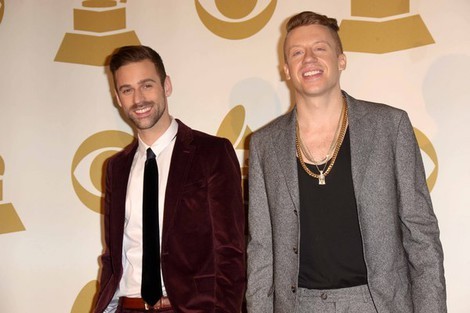 A group of New York City commuters got the surprise of a lifetime when Grammy nominated artists Macklemore and Ryan Lewis appeared for an impromptu performance.
As part of the Grammy's Music Unleashes Us promotion, the awards show set up a few hidden cameras and planted a few fake bus riders on a random New York City bus in November. At one of the stops the two superstars hopped on and all seemed normal - until this happened:
Ryan Lewis broke out a boombox that played the hook to Can't Hold Us and Macklemore began rapping, which seemed to disturb a few of the bus riders who did not know who the two men were.
After a few moments of clapping and smiling, the bus began to rock out with Macklemore and Ryan Lewis, taking out their phones to record the superstar as he performed.
Perhaps the funniest part of the video is the end, where the two men exit the bus at another stop, to the complete surprise of a woman waiting to get on.