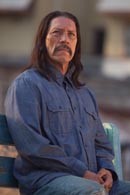 Directors Robert Rodriguez and Ethan Maniquis have been named in a new breach of contract lawsuit over allegations they stole the idea for their 2010 movie Machete.

Yvonne Delarosa claims she met with Maniquis in 2005 and shared her plot ideas for a movie about a man who seeks revenge by embarking on a killing spree with a machete.

According to her legal documents, filed in Los Angeles County Superior Court, her storyline then became the basis for the filmmakers' bloody action movie starring Danny Trejo as Machete Cortez - but she didn't receive any money for the project.

Delarosa is now suing for unspecified damages, reports TMZ.com.