Lyric Culture Launches New Line at Bloomingdale's: How Music Meets Fashion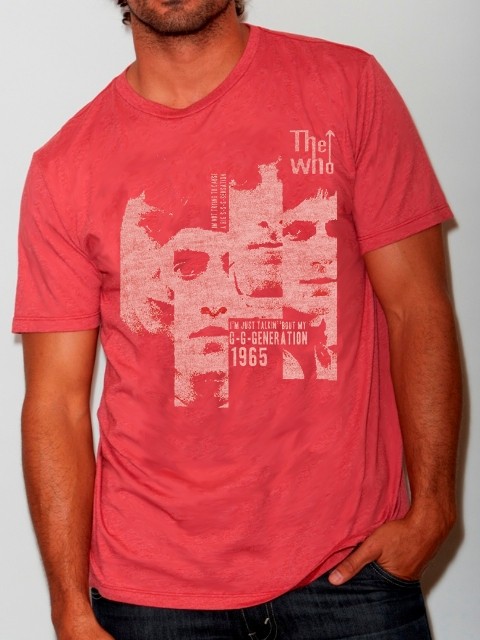 Music and fashion have long been interconnected - and Lyric Culture has perfectly married the two together for apparel that speaks to musicians and music fans alike. As the company rolls out a new line of shirts inspired by The Who at Bloomingdale's, BFTV spoke with CEO Hanna Rochelle about how Lyric Culture captures the spirit of music with style.
"It was a very organic idea of going out and creating merchandise that wasn't like cheap concert merch," said Hanna, a singer-songwriter herself, who comes from a family of musicians. "What we did was we took their lyrics [and] we created original artwork with it. The idea was to bring their music to life visually." For the Who line, that means classic songs like "My Generation" (pictured above), "Who Are You?" - now best known as the theme to CBS's CSI: Crime Scene Investigation - and "Won't Get Fooled Again" get translated into not just printed lyrics, but also images and unique arrangement.
How does Lyric Culture decide which artists and bands to immortalize? "Sometimes we're just huge fans of the artists, but first and foremost it's always the lyrics," explained Hanna. "There are some really amazing lines that people just know automatically what they are - and you know the minute you look at that line that's what it is.
"Sometimes you have an amazing artist and the lyrics just don't lend themselves to clothes," she added. "Fleetwood Mac is one of them because their lyrics, they're deep and they're profound, but they sort of go on and on and on."
This isn't the company's first partnership with Bloomingdale's, who has put the Who collection in select stores, including Beverly Center and Soho. "We've done a series of these at Bloomingdale's. Ones with Pink Floyd, another with Bob Marley, we did Jimi Hendrix," said Hanna. "The Who really tell a lot of stories, which is really interesting for us, whereas John Lennon is a little more philosophical. Every single one of these artists, it's a completely different design aesthetic. It's always challenging."
Lyric Culture has worked with a number of huge names in music history, rolling out apparel inspired by Bob Dylan, Elton John, Madonna, Michael Jackson, and Janis Joplin, as well as a few more recent artists like Kelly Clarkson, Demi Lovato and The Voice's Juliet Simms (they designed the T-shirt she wore at the beginning of her live performance of her single "Wild Child" on the NBC show last season). No matter what your taste in music, chances are Lyric Culture has something that will turn your head the same way your favorite artist catches your ear.
"We've been fortunate to work with some really iconic bands," reflected Hanna. I'd like to work with some of the contemporary artists. One we haven't worked with yet is Lady Gaga. I think it would be really interesting to work with her because she has a great sense of style and she's really creative."
"I always love to have the fans tell us what songs they want to see on products," she continued. "I always encourage everybody to email us. We look at every single request."
And while the company extends across all different genres of music and many different styles of clothes, apparel isn't all that Lyric Culture has to offer. The company also has a collection on HSN, one at PetSmart, and under their Music Rocks brand, a line of fine jewelry at Kay Jewelers. Model and TV personality Carmen Electra's dog was once spotted wearing a Lyric Culture tutu.
Because Hanna is a musician as well as a businesswoman, she appreciates the artists whose music makes Lyric Culture possible, and understands the fans who want something unique to represent the music that they love. The Lyric Culture brand reflects her passion for music as an art form, too. "I always say that fashion is very similar to music," she continued. You write a ton of songs, ten make it to the album and you pray that one is a single. We create tons and tons of designs, a handful make it to retail, and even fewer of those become super huge hits."
But just like true musicians, Lyric Culture's ultimate bottom line doesn't rest solely on commercial success, either. Said Hanna, "Our goal is to find the right soundtrack and the right song for every single customer and every retailer." With dozens of artists in their catalogue, the company is on its way to doing just that - as well as blazing a unique identity all its own.
The Lyric Culture The Who line is in Bloomingdale's stores now. You can also visit the Lyric Culture official website to purchase products online, and keep up with the brand on Twitter (@lyricculture).
(c)2013 Brittany Frederick. Appears at Starpulse with permission. All rights reserved. No reproduction permitted. Visit my official website and follow me on Twitter at @tvbrittanyf.