Lupe Fiasco Relinquishes His Twitter Account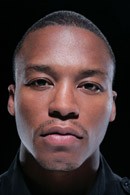 Rapper Lupe Fiasco has quit Twitter.com and handed over control of his blog to a little-known singer/songwriter pal.

The Superstar hit-maker announced he was turning his back on the social networking website on Wednesday.
 
He tweeted, "i'm quitting twitter. it was fun while it lasted... thanks for the support on (his album) #lasers and i will see you all on the road soon..."

However, Fiasco has opted not to shut down the blog for good - he's allowing his former collaborator, up-and-coming artist Nikki Jean, to take over the page and post messages to more than 722,000 followers.

In his final two tweets, he writes, "u (sic) know what??? i'm gonna let @NIKKIJEAN takeover my twitter... u might remember we did a little track called 'hip hop saved my life' together..."