Lupe Fiasco Calls President Obama The 'Biggest Terrorist In The United States'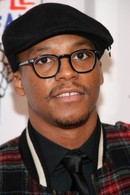 Hip-hop star Lupe Fiasco has sparked a controversy by blasting U.S. President Barack Obama and labeling him the "biggest terrorist" in America.

The Superstar hit-maker, who hails from Obama's adopted home town of Chicago, Illinois, openly revealed his dissatisfaction with his President's foreign policy stance, which is sure to anger fans.

During an appearance on web show What's Trending with Shira Laza, he says, "To me the biggest terrorist is Obama in the United States of America... The root cause of terrorists is the stuff the U.S. government allows to happen. The foreign policies that we have in place in different countries that inspire people to become terrorists..."

"I don't want you to bomb some village in the middle of nowhere."