Ludo Lefebvre Talks ABC's New Cooking Competition 'The Taste'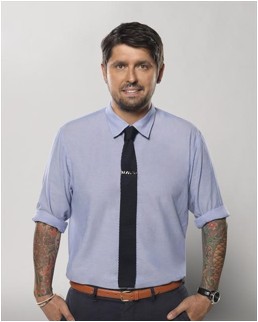 Things are starting to heat up on ABC's new cooking series The Taste - with the teams of chefs set, the competition is officially on. Ludo Lefebvre, who serves as a mentor alongside Anthony Bourdain, Brian Malarkey, and Nigella Lawson, spoke with BFTV about what brought him to the kitchen and if there's really a beef between him and Brian.
"I really liked the idea to pick my team and to teach my contestants how to cook. I love to teach, so I was very excited to spend time with my team in the kitchen," said the chef, explaining why he signed on.
Once he stepped into The Taste's kitchen, "I was very surprised how I was so involved in the competition," he added. "You'll get to see on the show, as a mentor, we're really really involved with our teams. We want to win."
Winning means that someone in Ludo's kitchen will have to reign supreme over the teams fielded by his fellow mentors. Asked what other squad he's interested in watching, he said, "I'm interested to watch Anthony [Bourdain], how he's going to manage his team. I'm next to Nigella [Lawson] when we compete, so I see what she's doing with her team, but Anthony's far away from me." (You can read BFTV's interview with Nigella Lawson here.)
During the audition rounds, there was some noticeable tension between Ludo and Brian Malarkey - so do the two celebrity chefs have a real conflict between them or does it just look like that on TV? Explained Ludo, "I think it's because I beat him three times when we were looking for contestants. Three times I won against Brian. So I think he's very upset."
The Taste isn't his first time in the culinary-competition world; he previously competed in the first two seasons of Bravo's Top Chef Masters. However, being a TV competitor didn't necessarily inform him as a TV mentor, because the two series are completely different. "Top Chef Masters put us in some challenge, like we had to do food from a gas station," he said. "You get to see the competiton of The Taste. It's a real challenge. It's about food and not just about cooking."
Ludo, whose chefs of choice include Eric Ripert ("my favorite chef in America") and who is in the midst of opening a restaurant himself, also shared what he thinks makes a good cook, whether it's a professional or in the home. "I think a good quality is really to cook for people," he said. "To give joy, pleasure to people and not just to cook for yourself."
The Taste continues tonight at 8 PM ET/PT on ABC. You can also visit the official website.
For more from Brittany Frederick, visit my official website and follow me on Twitter (@tvbrittanyf).
(c)2013 Brittany Frederick. Appears at Starpulse with permission. All rights reserved. No reproduction permitted.