'Lucky One' Star Zac Efron Is Dirty & Hot In New Issue Of 'Men's Health'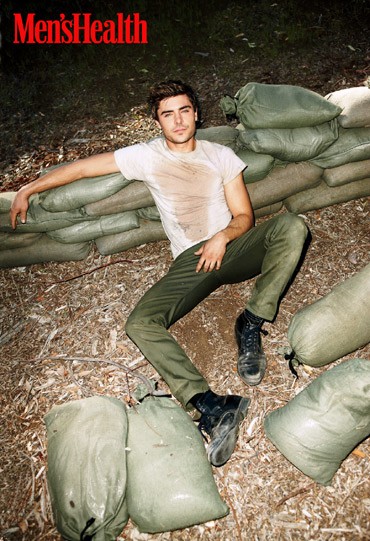 If you like sappy Nicholas Sparks novels turned into films and you like male stars in their 20s, than "The Lucky One" starring Zac Efron is a must-see movie next weekend.
In the film, Zac plays an Iraq War veteran who searches for the woman from a mysterious photo that he credits with saving his life during three tours of duty.
In the latest issue of "Men's Health" (on newsstands April 17), the actor talked about his body's transformation after training for "The Lucky One." He explained, "By the end of the movie I didn't recognize myself. You hear about guys like Christian Bale who dive into it and are really able to transform. I've always wondered if I had the willpower to actually do it. And I'll always have pride around the sense that I can."
If you've seen the trailer and photos from the film, you can tell he worked hard to get the body of a marine. Yowza!
Zac also opened up transforming from a Disney star in 2006's "High School Musical" to a U.S. marine. He said, "Look, I was just a musical-theater guy. I would have been happy to do that for the rest of my life. But there's something about me that's always searching for the more challenging route, and the actors that I really admire are always picking things out of their comfort zones, trying to stretch to see where they can go. It just seems like the road less traveled."
Read the full story from "Men's Health" here: http://www.menshealth.com/celebrity-fitness/zac-efron
"The Lucky One" hits theaters Friday, April 20.