Luciana Takes Starpulse Inside New Single 'When It Feels This Good'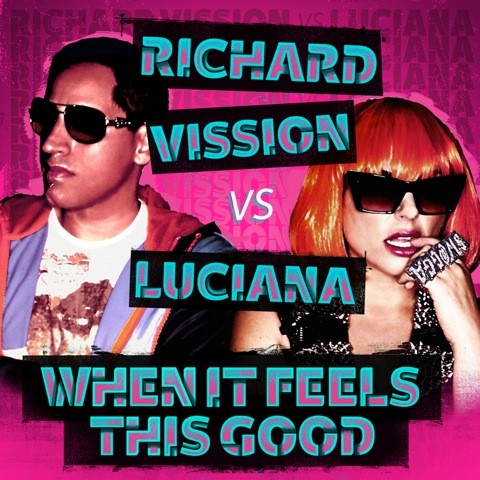 Dance music superstar Luciana is back with her single "When It Feels This Good" which is another successful collaboration with top DJ Richard Vission. Luciana, who has also worked with the likes of Deadmau5, Swedish House Mafia, and Kylie Minogue, recently sat down with me to discuss the single and video. What really goes into getting a music video made?
"The process is different for every video," she said. "It all depends on how strong an idea is at the beginning. Initially my videos were all someone else's ideas, but in the past few years from [hit single] 'I Like That' onwards, [I] have had much more of an input. 'I'm Still Hot' was completely my own team's concept right from the treatment to the styling to filming and editing.
"For 'When It Feels This Good,' because Richard had such a strong idea, he went forward with getting treatments from various directors and we went with the best one and built it from there.
"The idea becomes a treatment, that's like a written layout of what will happen in the video," she continued. "It allows you to paint a picture in words. From there, the production team comes in and irons out how it will be shot, camera angles, lighting, troubleshooting any filming difficulties according to budget.
"I work very closely with my creative visual partner, David Burgoyne, to ensure we have the right look for the video including hair, styling and general aesthetics of the whole thing.
"Budget is always something that restricts and getting a video shot in two days maximum is the key to keeping the costs down."
"Richard and I are friends so it was always on the cards," she said of re-teaming with Vission. "When "When It Feels This Good" came in I just felt that I had to write over it. It would be great if people saw the contradiction between the singing parts and the shouting parts, There's a message in that somewhere; it's different for everyone."
For her favorite video picks, she told me, "I love videos that combine art with fun and style. I love Gwen Stefani's videos, I also love the cheekiness of Cazwell's videos, [and] Azalea Banks is one I really love, so simple and cool."
Check out the official video for "When It Feels This Good" below:
For more on Luciana, you can follow her on Twitter and Facebook. For more from Brittany Frederick, visit my Starpulse writer page and follow me on Twitter (@tvbrittanyf).
(c)2012 Brittany Frederick/Digital Airwaves. Appears at Starpulse with permission. All rights reserved. No reproduction permitted.