Lovedrug On Tour In Support Of Sophomore Effort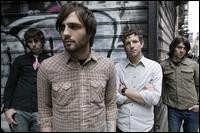 VH1
Behind The Music
fans can attest: the ol' upstart indie band on a major label story goes south with a quickness. So we should have seen it coming when Columbia Records upstreamed the Ohio-based whippersnappers in
Lovedrug
. Their '04 Militia Group debut,
Pretend You're Alive
, was a hit with mall-loads of kids, and after its euro-minded guitar rock won over a large enough audience, the big whigs came calling. But as the time-tested VH1 narrative goes, instability and a revolving door of key figures at the label took its toll. Our heroes in Lovedrug remained unfazed, though, and deftly slipped through the clutches of 'the man,' gaining release from Columbia, and taking with them recordings that would become their monsterous return to Militia Group,
Everything Starts Where it Ends
. Cue the fanfare.
Musically, Lovedrug positions itself between indie pillars like
Sunny Day Real Estate
and super-sized alt.rockers like
Smashing Pumpkins
. Think a more heartfelt, atmospheric
Muse
. For all the hardships,
Everything Starts
is a beautiful sojourn of introspection, cast in a cinematic structure that perfectly marries lyrical content and instrumentation. Couched in poetic language, sprawling, archetypal, fairy-tale laced narratives open in different ways to every listener, hitting the nerve of universal connection.
"...somewhere between 70's-style guitar-rock grandeur and pre-weird Radiohead lives inebriated, quasi-hallucinatory tale."
- Entertainment Weekly
"Band of the Day"
- SPIN.COM
"Lovedrug combine smart lyrics with hearty rock & roll to create a record full of indiepop gems."
- Blender.com
"There's no shortage of massive and muscular moments here.."
- Alternative Press
In conjunction with the record's release, the band has embarked on a massive US tour - beginning with intimate, acoustic-only "storyteller" shows, and followed by a gargantuan tour of practically every American city with
Plain White T's
. But, seriously, it's the only sort of jaunt befitting of record the scope and size of
Everything Starts Where It Ends
.
Remaining Tour Dates:
03-20 San Francisco CA Slim's
03-21 Los Angeles CA House of Blues
03-22 Las Vegas NV House of Blues
03-24 San Diego CA House of Blues
03-25 Anaheim CA House of Blues
03-26 Tempe AZ The Clubhouse
03-27 Albuquerque NM Sunshine Theater
03-29 Oklahoma City OK Diamond Ballroom
03-31 Dallas TX The Gypsy Tea Room
04-01 Austin TX La Zona Rosa
04-02 Houston TX Meridian
04-03 New Orleans LA House of Blues
04-05 Atlanta GA Masquerade
04-06 St. Petersburg FL State theater
04-07 Fort Lauderdale FL Culture Room
04-08 Orlando FL The Social
04-10 Jacksonville FL Freebird Live
04-11 Charlotte NC Tremont Music Hall
04-12 Norfolk VA The Norva
04-13 Washington DC 9:30 Club
04-14 Hartford CT Webster theater
04-17 New York NY Irving Plaza
04-18 Bostom MA Avalon
04-22 Philadelphia PA The Trocadero
04-24 Millvale PA Mr Smalls theater
04-25 Cleveland OH House of Blues
04-26 Columbus OH Newport Music Hall
04-27 Cincinnati OH Bogart's
04-28 Hiram OH Coleman Center @ HC
04-29 Detroit MI St. Andrew's Hall
05-01 Grand Rapids MI The Intersection
05-02 Chicago IL Metro
More on Lovedrug