'Love, Wedding, Marriage' Just Another Summer Rom-Com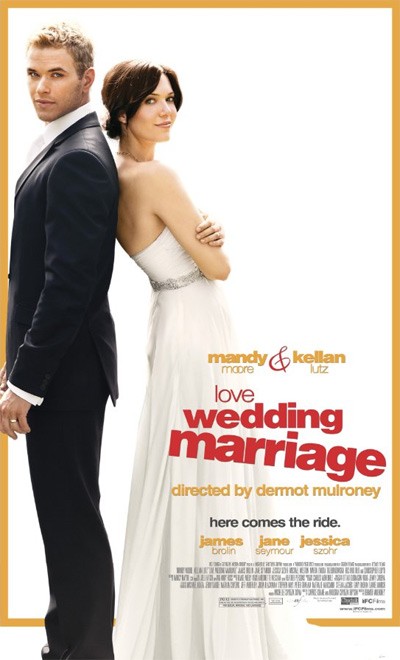 What's with all these three word noun-adjective-combo movie titles? This time it's "Love, Wedding, Marriage" and, big surprise, this romantic dramedy's (light on the drama side) got all of it.
Mandy Moore plays Eva, a marriage counselor who's dedicated to saving the failed relationships of her clients. But when her own parents become her patients, she's thrown out of the fairy tale fantasy of the life she knows and into the harsh reality that love and marriage doesn't come without its struggles. As she desperately tries to salvage her parents' marriage, she is forced to put her own on the line.
The cast is a mix of both seasoned actors and fresh faces, among them Kellan Lutz, whose breakout role in the "Twilight" series caught many an eye, who plays Moore's husband, and "Gossip Girl" star Jessica Szohr cast as Shelby, her sister.
Moore's acting isn't exactly spectacular – there's very little variation from her past characters in "License to Wed" and "Because I Said So." Strangely, they all have to do with marriage. Coincidence? Who cares. Lutz is a pretty face…and also pretty everything else, which probably has more to do with him landing this role than his actual talent. Szohr is an interesting choice as sister, considering they look nothing alike. It probably would have been wiser to cast her as the unrelenting best friend or maybe the eighth cousin a million times removed.
Let's face it: this movie isn't going to be some rom-com underdog that turns out to pleasantly surprise us with its superb plot and acting. At most, it'll give some the warm fuzzy feeling of a happy ending and the rest a sigh of relief that it's finally over.
Love, Wedding, Marriage is set to release June 3.