'Love & Air Sex' Now In Select Theaters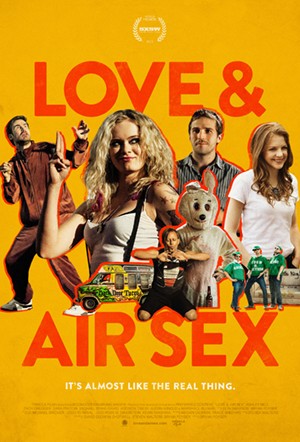 Love & Air Sex is not your stereotypical romantic comedy.  It is love gone awry millennial style with a dash of bromance, Facebook and sexting. Written by Brian Poyser, David DeGrow Shotwell, Steven Walters and directed by Brian Poyser. The cast stars Ashley Bell (The Last Exorcism), Zach Cregger (Guys With Kids), Sara Paxton (Aquamarine), Michael Stahl-David (Cloverfield), Addison Timlin (Californication), Marshall Allman (True Blood), Justin Arnold (Dallas).
Stan (Michael Stahl-David) goes on an impromptu trip after seeing a Facebook status of his ex-girlfriend, Cathy (Ashley Bell). He leaves the comforts and struggles of his LA life to go to Austin, Texas for the weekend with the intent to accidentally on purpose run into her. When he gets to his destination, it's anything but a welcoming party. His bestie Jeff (Zach Cregger) and his ex-girlfriend Kara (Sara Paxton) are in the middle of a nasty break-up. Jeff unloads his frustrations by performing pantomiming sex hence air sex on stage for a local competition.  Kara can't leave him alone so she gets in on the craziness as well.
Stan and Cathy casually meet, connect and hook-up other people while they are still in each other's heads.  A three way call and text changes their relationship. This film has heart in spite of its raunchy moments.
Love & Air Sex became available on iTunes & VOD: February 4, 2014. Select theatrical release beginning: February 7, 2014.