'Louie' Scores With Season 3 Premiere, Season 2 DVD Release
It's another bad day for Louis C.K. and we're better off for it, as Louie returns for its third season tonight at 10:30 PM ET/PT on FX.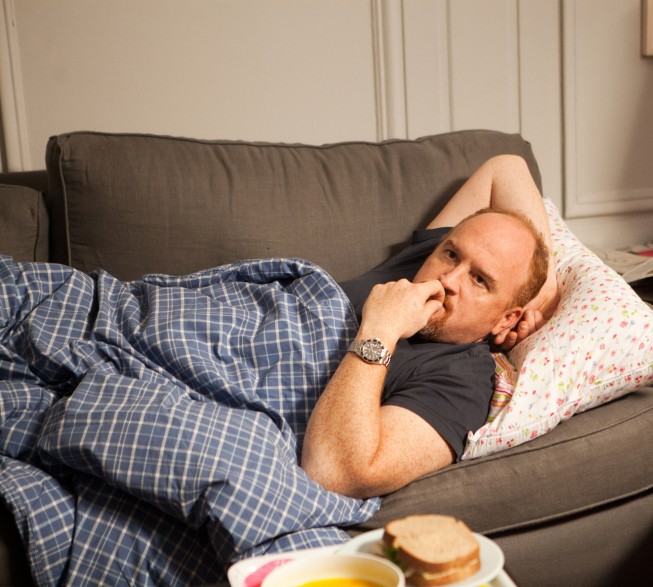 While his stand-up material is still too vulgar for this reviewer's taste (the opening bit of the premiere so much so that I fast-forwarded through half of it), within the show itself, Louie is still getting plenty of mileage out of being the most downtrodden person alive, and still has plenty of dead-on observations about life.
In tonight's "Everything Is Wrong," for example, he and another motorist park in front of not one, not two, but four street signs and can't decipher enough to know what any of them are really saying. We'll probably never be in that exact same situation, but chances are you've had some difficulty figuring out a street sign at some point in your life, and can therefore identify with Louie's bewilderment and frustration.
Meanwhile, his girlfriend of six months, April (Gaby Hoffmann) is dragging Louie through almost every stage of a failing relationship while he says maybe a half-dozen sentences. She reads everything into nothing and he can't convince her otherwise. Again, it's a situation that taken literally is unrealistic, but there's plenty of truth in it for everyone who's ever had an overbearing significant other.
That's what makes Louie enjoyable. You don't have to love Louis C.K.'s stand-up to like the show, because there's so much more to the series. It took the overused concept of a stand-up comedian obviously playing themselves in a TV series, and sort of laughed at it. It's not a self-titled, self-indulgent sitcom. It's as if Louis C.K. said, "You want to see a show about me? Well, it's not pretty and it's not always funny." And that's why it works, because neither is life.
If you're just now checking out the show, you can catch up with Louie: The Complete Second Season, recently released by FOX Home Entertainment to tie in with tonight's season premiere.
The set is average when it comes to extras; there are five commentaries from Louis C.K. himself, on the first five episodes, and sadly not for the show's best episode "Duckling" or the season finale "New Jersey/Airport." There's also a Fox Movie Channel featurette that's worth a look, but not repeated viewing material. The commentaries are the set's best asset.
But are they worth buying the set for? That depends on how interested you are in what makes the show tick. I may not be a fan of Louis C.K.'s stand-up material, but I have a certain respect for him as a creative professional, because he really works hard on this show. He even does his own editing! These commentaries are the audience's chance to learn a little more about those things that you don't see, and they're funny in their own way. For the people who geek out about TV production, or are die-hard Louie fans, they're enjoyable; if you're not the type of person who finds that stuff fun, then you're probably better off skipping this.
The DVD presentation looks fine, but not outstanding; it's comparable to watching the episodes in SD as they were broadcast. (There is a Blu-Ray version available.) There's no foreign language support, but there are closed captions and Spanish/French audio tracks. It's worth noting that the packaging is very straightforward, with no frills: just a list of the episodes and features on the inside front cover, and the two discs. Exactly the no-BS way that Louie would want it.
You can order your copy of Louie: The Complete Second Season by using this link.
For more from Brittany Frederick, visit my Starpulse writer page and follow me on Twitter (@tvbrittanyf).
(c)2012 Brittany Frederick/Digital Airwaves. Appears at Starpulse with permission. All rights reserved. No reproduction permitted.