'Louie' Blu-Ray Delivers And Then Some
To coincide with the second season of the eclectic FX comedy starring Louis C.K., 20th Century FOX recently released Louie: The Complete First Season in a two-disc, thirteen-episode collection. Here's my review of the Blu-Ray/DVD combo set.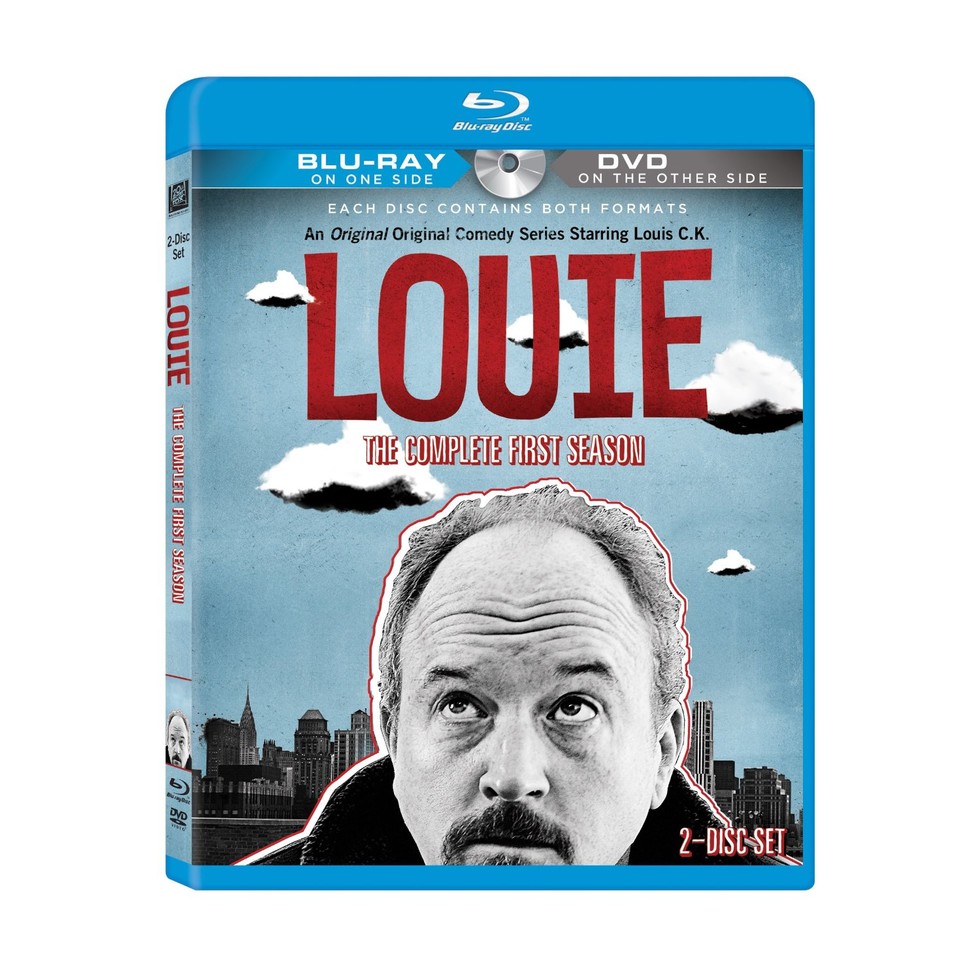 The Show
Louie is most definitely an acquired taste. (I'm not complaining; so was Archer and now I can't get enough of that show.) One-part stand-up, one-part awkward comedy, it's basically Louis C.K. playing himself - without the laugh track or sitcom feel that accompanies most shows where comedians try to play versions of themselves. It reminds me somewhat of Titus - except not nearly as funny as that late FOX show (may it rest in peace).
Some parts of Louie are genuinely hilarious. I cracked up laughing at his rant about how cardboard milk boxes are outdated, and had to snicker through the awkwardness of his being stuck on a field trip gone bad in Harlem. For everything that's funny, though, there's something that takes me into "I can't believe that just happened" territory, like Louie deciding to mention on a first date that his daughter has an infection, or his interaction with a creepy, naked old lady who lives next door to his date. And though I'm no prude, there are expletives that make it into the show that I'm not sure were necessary.
In all, Louie is a mixed bag: some parts you'll find great and others you may be appalled by. I'd definitely recommend you rent this or check out an FX rerun before you make the decision to purchase the entire season.
The Dual-Sided Discs
Yes, you read that right. Louie: The Complete First Season comes with dual-sided discs - meaning that Blu-Ray is on one side and DVD is on the other. At least these are clearly labeled as to which side is which, but I'm not fond of dual-sided discs in general. I'm near-paranoid with how carefully I handle my Blu-Rays and DVD's with only one side to avoid scratching; having to worry about protecting both sides is a headache I don't want. That said, I do appreciate the reasoning behind it - 20th Century FOX is offering both formats to the consumer for one price. That's thoughtful, at least. Just be very careful how you handle these discs.
The Blu-Ray packaging has minimal fuss, but the interior content is covered up by the discs. For example, you'll have to take out disc two to read the list of which episodes are on what disc. Since there are only two, this isn't as problematic as it could be, but it's a minor annoyance. Also, this might just be the copy that I received, but the discs were packaged out of order.
There are four trailers: a general FX one (RIP, Terriers), one for Archer on DVD, another for The League on Blu-Ray and DVD, and one for Louie's Thursday night companion series, Wilfred. All are skippable. You have a "play all" choice available.
Both Blu-Ray and DVD versions are presented in 1:78:1 widescreen, with English 5.1 audio and subtitles available in English SDH, Spanish and French. On the Blu-Ray side, that audio is in HD as well.
The Special Features
Louie doesn't look like it comes with a lot of special features, but as a matter of fact, it's pretty great if only because of one thing: great commentaries. The audio commentaries provided by Louis C.K. are funnier than parts of the episodes, and also surprisingly educational. Not only does he tell you what parts of the episodes are real and which aren't, but he also loves to talk about what went into making them, down to little details like how certain shots were set up. Certain jokes might not work for you, but you'll be able to grasp why they turned out that way, at least. You get a real insight into what it takes to put the show together, in addition to what you'd normally expect from a commentary track, and you get them for most of the season - all of the ones on the first disc and selected episodes on disc two.
In addition, you get a short (less than four minutes) Fox Movie Channel special that's worth a peek (although the commentary is more entertaining IMO), and a batch of deleted and extended scenes that total more than a half hour. They're not bad, but the real prize here is the commentaries, which I sat back and listened to even if I wasn't all that interested in the episodes. Fans and TV/film buffs alike will enjoy them.
The Bottom Line
Louie is a show you'll either love or completely not understand - but this is an impressive little set. Rent the show to make sure it's your kind of humor, but if it is, you'll truly enjoy this home release, which packs more than one might expect for a half-hour comedy.
If you're a Louie fan, check out my site's recent interview with Louis C.K. about the currently-airing second season (Thursday nights on FX).