Lou Ferrigno Donates $50,000 To Girl Suffering From Muscular Dystrophy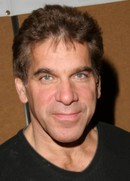 Kind-hearted Lou Ferrigno had a surprise in store for a young girl suffering from muscular dystrophy - he has handed her his $50,000 earnings from The Celebrity Apprentice.

The hearing-impaired Incredible Hulk star won the money for his charity Muscular Dystrophy Association, but donated the full amount to Abbey Umali after he was moved by her story.

The bodybuilding star fought back tears as he heard of her plight, as it brought back memories of his own painful upbringing.

He said on the show, "I'm giving $50,000 that I won from my charity to Abbey... Close to birth...I lost like 80 per cent of my hearing and I had difficulty speaking. It had always been a challenge for me but as a kid when I was growing up, you never wanted to feel sorry for yourself, ever."
"I feel like I went back in time to when I was a child. She reminded me of what I had when I was young."

The episode airs on Sunday.