Lost Ray Charles Footage Unearthed For New DVD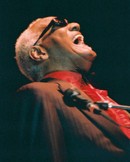 Lost footage of Ray Charles performing at the Antibes Jazz Festival in France from 50 years ago has been unearthed for a new concert movie DVD.

Eagle Rock Entertainment and Reelin' In The Years Productions have teamed up to distribute "Ray Charles - Live In France 1961," which features the late R&B icon onstage with the original Raeletts and his band comprising David 'Fathead' Newman and Hank Crawford.

The digitally restored and remastered footage features some of Charles' first-ever performances in Europe, and includes tracks like "What'd I Say," "Georgia On My Mind" and "I Believe To My Soul."

Reelin' In The Years president David Peck, who co-produced the film, tells WENN, "This Ray Charles footage was never intended to be shown as a full-length project, but I saw one of the songs on a program, then saw another performance. Then we found the radio recordings of the full sets, giving us a way to edit everything together to become this seamless experience and amazing document of Ray Charles."

The DVD will be released in October.