Lorenzo Borghese, Charles Ferri Are Esquire's 'Lucky Bastards'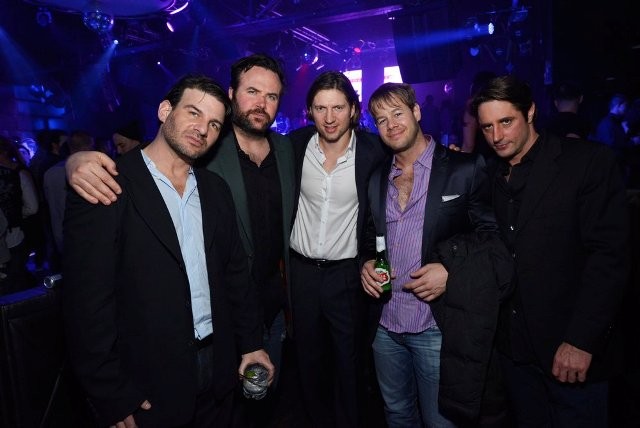 Last week, Esquire Network launched its new reality series, Lucky Bastards, focusing on the lives of six successful New York bachelors. But what sets the series apart from other shows about the hip and single life? And what are these half-dozen businessmen, who clearly don't need the fame, doing on a reality TV show in the first place? We asked stars Lorenzo Borghese and Charles Ferri to shed some light on the show for us, and here's what they had to say.
"My friends have always asked me, 'What's it like being you for a day?' and I always felt the question was ridiculous," said Lorenzo. "I was then approached to do this show.  A show that follows my daily life.  Although I'm certainly a Lucky Bastard, I wanted to show people that I'm no different nor special than anyone else.
"Additionally, as an entrepreneur with two businesses - a pet line called Royal Treatment and a lifestyle brand called RumGolf - and a not-for-profit called Animal Aid USA,  I felt that getting national exposure for these brands was too important to pass up. So I said yes."
"Having the opportunity to show our unique friendship while living in the best city in the world was a no-brainer," agreed Charles. "I think it was about time us guys had a show that we can relate to."
What are the important things the guys want us to know about them as we're tuning in to get an inside look into their busy and unique lives? "That's a difficult question as people's perception varies greatly," Charles said. "Some might like me, some might hate me, but I have stayed true to myself throughout the show by working hard, doing crazy outrageous stuff with my friends and living my life."
"I want people who watch this show to laugh – both at us and with us.  Most times we don't take ourselves too seriously and neither should the audience," Lorenzo told us. "I feel that each minute of our limited time here on planet earth should be valued like gold.  That said, who said work shouldn't be fun?  If you're in a job and not happy, change it.  If you're unhappy, then do something that makes you happy.  What the audience will see is us constantly laughing, and the people around us doing the same, and we want the laughter to spread to our viewers.  We want them to be happy.  We want them to smile and laugh with us and at us."
Lorenzo might be a familiar face to some reality TV viewers, as he was ABC's The Bachelor back in 2006. Asked if that experience prepared him for this one, he said, "The Bachelor was such a very different show than this one, but any TV experience helps you prepare for the awkwardness of having cameras constantly around you.  The more experience you have, the less you notice them and the more you can be yourself."
"I personally felt it was much easier than I thought it would be," said Star Vodka founder Charles of being on television. "I always had dreams of what it would be like to capture some insane, crazy moments I have had with the guys, so when it came time to document it all on TV, it was much easier than I ever imagined.  We just did what we always do.  The real hard part was getting people in my business life to agree to be filmed on a reality show, with the their fear that the show would be about drama and hating on each other, but Lucky Bastards is about a group of friends having fun and living it up."