Lopez, Urban, Connick & Seacrest Commit To Season 14 Of 'American Idol'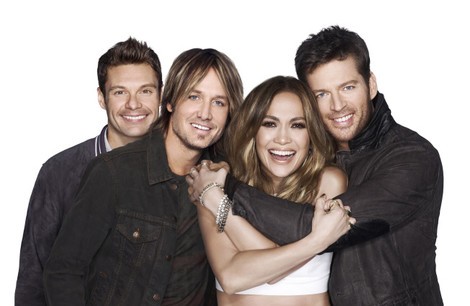 "American Idol" judges Jennifer Lopez, Keith Urban, and Harry Connick, Jr. and host Ryan Seacrest are staying put for season 14, according to 21st Century Fox Senior Executive Vice President David Hill, who announced the news on Monday.
"Jennifer, Keith, Harry and Ryan are the very best in the business at what they do, and I'm thrilled that they are returning to American Idol for another season," he explained during a network event in Las Vegas, Nevada. "Each brings unique qualities and expertise to the team, but they all share the same passion for helping undiscovered singers achieve the American dream."
Season 14 will kick off early next year. It will mark Lopez's fourth season as a judge (after taking a break during season 12), Urban's third, and Connick, Jr.'s second. Seacrest has been with the series since the beginning.