London Unveils Mediocre Waxwork Of Emma Watson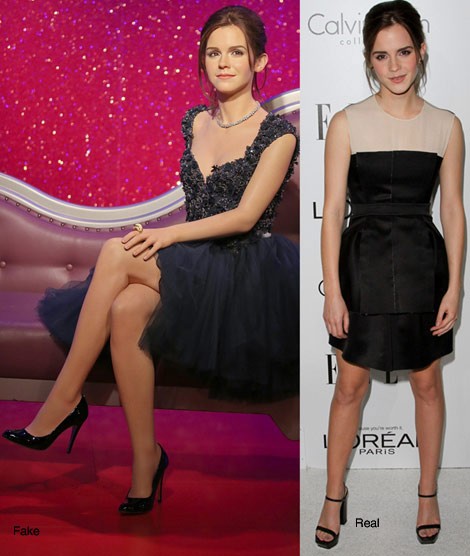 Madame Tussauds London revealed its wax figure of actress Emma Watson today, and they did a so-so job. The sculputre is sitting in a chair wearing a midnight blue cocktail dress by Elie Saab. The real Emma wore a similar dress at a red carpet event in Hong Kong in 2011.
If you look at the close-ups below, you will notice that from the left side the sculpture is very different from the real Emma. There is a slightly better resemblance from the right angle.
Watson is going to be honored at the MTV Movie Awards in April with a special prize. She will be receiving the Trailblazer Award in recognition of her acting career, which began in 2001 with "Harry Potter" and later included films such as "My Week With Marilyn" and "The Perks of Being A Wallflower."
She was recently linked to the role of Anastasia Steele in the highly anticipated S&M film "Fifty Shades of Grey," but she quickly shot down the reports via Twitter.
Watson stars in the upcoming film "The Bling Ring" about a group of young people who rob celebrity homes. It is based on a true story.