Locksley To Re-Release 2007 Debut, 'Don't Make Me Wait'

Feature Records announced the re-issue of
Locksley
's self-released debut album
Don't Make Me Wait
which will contain two exclusive new bonus tracks. The record will hit the streets via Fontana Distribution on September 9, 2008.
The re-issue of
Don't Make Me Wait
is a true testament to the band s longevity. Self-released in 2007, the band took the true D.I.Y approach and were able to land highly coveted spots on Late Night with
Conan O Brien
and
Jimmy Kimmel Live
as well as placement of their hit single "My Kind Of Lover" in
J.J. Abrams
'
Cloverfield
.
Without the support of a major label system the band was able to accomplish unprecedented success based on the merit of their songwriting. In 2007 they were awarded such honors as composing "Why Can't I Be You" for the MTV show of the same name and the tracks music video also won MTVU s The Freshman. The band has already been chosen by MTV as a future Artist of The Week for mid September in support of the re-release of
Don't Make Me Wait
.
Adding fuel to the fire the band has spent the last year touring extensively and sharing the stage with artists like
The Hives
,
The Rapture
,
We Are Scientists
,
The Dandy Warhols
and others. Locksley is currently on the road with
Rooney
throughout the summer and will be hitting the studio in the fall to record their sophomore follow up.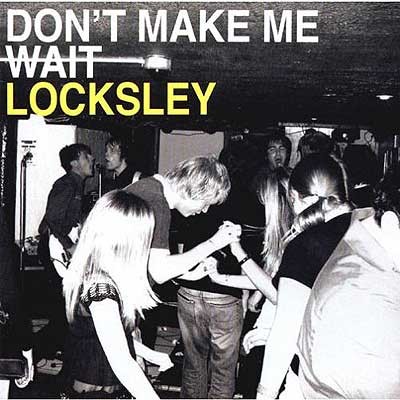 Track Listing:
1.Don't Make Me Wait
2.Let Me Know
3.All Over Again
4.All Of The Time
5.She Does
6.Why Can't I Be You (Why Not Me)
7.My Kind of Lover
8.The Past and The Present
9.Into The Sun
10.Up The Stairs
11.It Won't Be For Long
12.For You (Part I)
13.For You (Part II)
14.Only A Girl*
15.Safely From The City*
*Previously unreleased bonus track
More Locksley:
Starpulse Page
Official Site
MySpace Page
Tour with Rooney &
The Bridges
July 10th Las Vegas, NV House Of Blues
July 13th Portland, OR Hawthorne Theatre
July 14th Seattle, WA Chop Suey
July 18th est Hollywood, CA House Of Blues
July 20th Anaheim, CA House Of Blues