Locksley: The Only Unsigned Band With A Video On MTV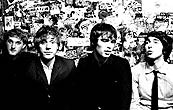 Wisconsin is one of those Midwest states that we all assume is running rampant with overweight Miller High Life drinking blue collar boys at Lambeau Field. Not exactly where you'd imagine the next Brit-Pop sensations coming from, that's for sure. This is a state better known for their cheese and... um, well yeah just cheese, than their good taste in music. But their latest export,
Locksley
, will be changing that stereotype soon enough.
Having relocated to the more "musically-respectable" neighborhoods of Brooklyn, Locksley is well on their way to becoming everyone's favorite new band. Their upcoming album
Don't Make Me Wait
, named after their first single, is what the love-child of
The Kinks
and
The Beatles
would sound like, if that kind of thing really could happen. It's as if Locksley hit the books at the University of
Lennon
,
McCartney
and
Davies
and majored in the
Libertines
.
There are endless classic pop hooks to reel you in, and raw, in-your-face punk blender, to keep you moving. The result is subliminal pop rock candy that you won't be able to stop munching on. Locksley's music isn't a challenge, it's just pure rock and roll and we've gained 40 pounds off the stuff.
Check out the video for their delicious single "
Don't Make Me Wait
". Yum!
We're not the only ones feeling Locksley's music. We first heard them as background music on a Payless Shoe commercial and fell in love. More recently, Locksley was featured in MTV's "The Freshman," a weekly MTVu program dedicated to highlighting videos by promising new bands bubbling up on the college scene. Viewers get to vote their favorites into rotation and Locksley went up against
Elan
and Dirty pretty Things, and WON! Now they are the only unsigned band with a video on MTV. Yes, that is correct, Locksley is unsigned.
Yeah we can't believe it either. Especially with great praise like "Totally catchy" - Spin.com and "These guys have the goods, from great harmony vocals to punchy, well-deep hook filled songs delivered with panache." - Buhdge. So we can't take all the credit for discovering this new gem, but we will gladly take credit for sharing Locksley with all our friends and we encourage you do the same.
Check out these upcoming Locksley Live Dates.
10/21 Dogfish Head Rehoboth Beach, DE
10/31 Fontannas New York , NY
11/01 Axis (With The Rapture) Boston, MA
11/04 Santa Fe Cafe College Park, MD
11/10 Baggot Inn New York , NY
11/11 Paradise Lounge Boston, MA