LMFAO Visit Fan's Halloween Light Show Spectacular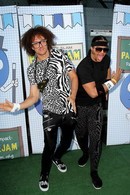 Pop duo LMFAO were so impressed with one fan's spooky Halloween tribute to smash-hit "Party Rock Anthem," they showed up on his driveway at the weekend to watch the light show in person.

Kevin Judd has become an Internet sensation after planning his Halloween Light Show 2011 around the group's summer anthem.

Almost six million people have checked out the spectacular on YouTube.com and the Riverside, California local's fans even include the band themselves.

Bandmates Sky Blu and Redfoo took time out of a nearby TV commercial shoot to visit Judd's home on Sunday and pose for photos with the light man and his family, friends and neighbors.