Living In Hiding, Casey Anthony Fears For Her Life & Plans To Leave The U.S.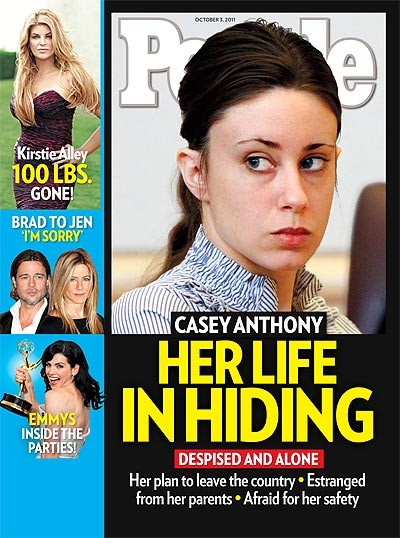 Three months after she was acquitted of killing her 2-year-old daughter Caylee, Casey Anthony is finding life on the outside long on threats and short on work, friendship and family ties. In a series of exclusive interviews with several people in touch with Casey Anthony (for which PEOPLE, per its usual policy, did not pay), a portrait of Anthony's state of mind and her life in hiding is created in this week's issue of PEOPLE.

Sources say that, estranged from family and shunned by strangers, some of whom have issued threats against her, she now has a love-hate relationship with her lonely freedom. Anthony has been in hiding from public view in northern Florida, helped by her team of attorneys. She is seeing a counselor but otherwise has little contact with anyone else.

"She knows that there are people out there who hate her," says one of the few people in contact with her. "She would love to go out to meet friends and do public things, but she knows she can't."

This source says Anthony feels conflicted now that she is completely estranged from her parents, George and Cindy Anthony, whose recent three-part nationally syndicated TV interview with Dr. Phil McGraw has left her feeling betrayed.

"The relationship with George is over," the source says. "She struggles with her relationship with her mother."

An avid photographer, Casey Anthony has resumed shooting pictures, training her lens on landscapes and wildlife, and away from people. She has plans to take online courses and hopes to learn a new language because, the source says, "she realizes she may have to live in another country."

During her three years behind bars in Florida's Orange County jail, a time when Americans across the country were demanding justice for her daughter Caylee, Casey Anthony focused on a future with what she believed were attainable goals. According to one of her former guards, among the career options she considered were paralegal, dental technician, and fashion buyer. The pleasures she dreamed of were modest: good food, manicures, haircuts.

"She always talked about how she wanted to do normal things," the guard tells PEOPLE. "She had a lot of the same dreams of most girls her age."

As for Anthony's notoriety as an accused murderer, she "had a love-hate relationship with it," the guard says. "Part of her was thrilled that the people were paying attention to her… but she really hated that the media would choose the ugliest pictures of her."

Since the trial, Anthony has grown up a bit, according to a male source. "She has started to learn and recognize her lies and what they did to people," he says. "She has a lot of regrets." She has started seeing a grief counselor for about a month, and in late September, says a female source, "she'll start seeing a female psychiatrist, who has cleared her schedule for the entire day." This source admits that "Casey gives me the creeps" but regards Anthony's interest in therapy as genuine, not a publicity stunt to burnish her battered reputation. "She was clearly an inexperienced, immature mother," she says. "Her problems almost destroyed her, and in some ways, they destroyed her entire family."


*Also In This Week's 'People'*

-Kirstie Alley's Slimmed-Down Photo Shoot: "I Like The Way My Body Looks. I Look Younger"
-Jennifer Aniston & Justin Theroux: "Justin Brought Jen Out Of Her Shell"
-David Arquette: "I Would Have Fantasies Of Just Disappearing"
-Lady Gaga Answers Reader Questions: "I Just Want People To Remember I Was Brave"


Pick up the new issue of PEOPLE, on newsstands everywhere now!