Live Talks Los Angeles Announces Second Season
Having brought fantastic celebrity pairings together to help support worthy causes in Los Angeles, Live Talks Los Angeles has recently announced the lineup for their noteworthy second season.

Live Talks LA has embarked on a mission to "bring great speakers to Los Angeles — authors, artists, leaders, musicians, scientists — and present them in some of the city's wonderful venues."
In doing so, they support various arts, literacy and educational causes, donating the net proceeds from their events to organizations like First Book (providing access to new books for children in need), the long-running non-profit theatre group The Actors Gang, film organization American Cinematheque, public broadcaster KCET, and the Los Angeles Review of Books. It's a varied selection that one can appreciate regardless of if you're a fan of books, TV or film - or all of the above.
The end result is an impressive series that also gives back to the community. Raved the Los Angeles Downtown News of the previous season, "If there were such a thing as a Rookie of the Year award for speakers' series, then Live Talks L.A. would walk off with the trophy, no questions asked."
Previous Live Talks events have included appearances by Tina Fey and Steve Martin, author Anne Rice, Billy West (Futurama) with Tom Kenny (Spongebob Squarepants), and comedian Lewis Black.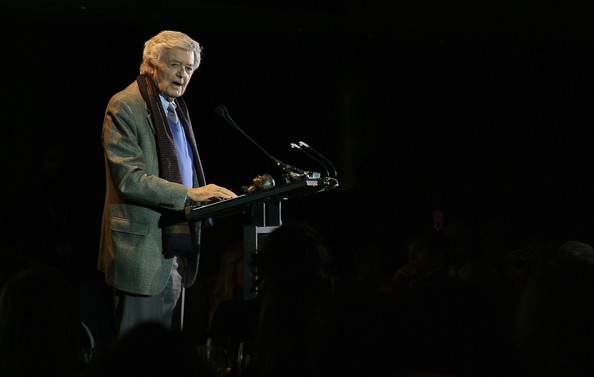 On September 8, Emmy winner and Academy Award nominee Hal Holbrook will join Robert Patrick (The Unit, The X-Files) for a conversation about Holbrook's upcoming memoir, Harold: The Boy Who Became Mark Twain. The event takes place at the Track 16 Gallery at Bergamot Station at 8 PM.
September 22 sees Pulitzer Prize honoree Dave Barry and Ridley Pearson visit Track 16 to discuss the next entry in their young-adult book series, Peter and the Starcatchers: Bridge to Never Land.
The season moves to Club Nokia at L.A. Live on October 2, when Glee's Jane Lynch will partner with Parks and Recreation and Party Down star Adam Scott for an evening devoted to her memoir, Happy Accidents.
Four days later, the season concludes on October 6, as John Lithgow (Dexter, 3rd Rock From The Sun) takes over the Aero Theatre in Santa Monica to chat about his autobiography, DRAMA: An Actor's Education.
Tickets for all Live Talks Los Angeles events can be purchased through the Live Talks LA website. They begin at $25, though the series offers packages which include a copy of the featured book ($45), and the book as well as access to a pre-event reception ($95).
Whether you're a fan of good books or one brought to the table by the past works of the speakers, no doubt you'll find something to enjoy in the Live Talks season - and you'll also know that the money you're spending will help support good works in the Los Angeles community. What's not to love?