Live Out Your Rock 'N Roll Inner Dreams With 'The Rocker' On DVD And Blu-Ray Jan. 27

Opportunity rocks!
School of Rock
meets
Spinal Tap
in the "flat-out funny" (Richard Roeper, "At The Movies") comedy for the rock star in everyone as
The Rocker
takes center stage on DVD and Blu-ray Disc (BD) January 27th from Twentieth Century Fox Home Entertainment.
Rainn Wilson
(
The Office
,
Juno
) drums up huge laughs in "the surprise comedy of the summer" (Ben Lyons, E!) as Robert "Fish" Fishman, a man living in a rock 'n' roll dream…but waking up in a midlife crisis! After being kicked out of '80s metal band Vesuvius just before they hit superstardom, "Fish" spends the next 20 years in relative obscurity, stuck in a humdrum office work life, constantly daydreaming of what might have been. When his teenage nephew's band is in desperate need for a new drummer to play the Senior Prom, he reluctantly steps in and picks up right where he left off. With a second chance to re-live his rock fantasies, "Fish" and his new band mates quickly skyrocket to fame…and rock will never be the same.
"A fun-filled musical romp that also doubles as a poignant coming-of-age story" (Clint O'Connor, Cleveland
Plain Dealer
) from director Peter Cattaneo (
The Full Monty
),
The Rocker
features up-and-coming young talents Emma Stone (
SuperBad
),
Josh Gad
(
21
) and pop star
Teddy Geiger
, plus hilarious supporting performances from
Christina Applegate
(
Samantha Who?
),
Will Arnett
(
Arrested Development
),
Jeff Garlin
(
Curb Your Enthusiasm
),
Jane Lynch
(
Best in Show
),
Howard Hesseman
(
WKRP in Cincinnati
),
Bradley Cooper
(
Alias
) and
Saturday Night Live
veterans
Jason Sudeikis
and
Fred Armisen
.
Get a front row seat to the ultimate performance with
The Rocker
Born To Rock Edition fully-loaded DVD and BD highlighted by over 90 minutes of chart-topping special features including several "backstage pass" behind-the-scenes featurettes, an interview with former Beatles drummer Pete Best, cast/director commentaries, deleted scenes, gag reels, podcasts and more; plus both feature a Digital Copy of the film for portable media players.
Twenty years after being kicked out of his nearly famous '80s hair band, Robert "Fish" Fishman (Wilson) finds himself trapped in a dead-end office job and living with his sister's family. But when opportunity rocks, Fish gets a hilarious second chance at stardom, and without missing a beat, the desperate drummer vows to reclaim the rock-god throne he always thought he deserved!
Born To Rock Edition Two-Disc DVD Specs:
The Rocker
Born To Rock Edition two-disc DVD will be presented in widescreen format (1.85:1 aspect ratio) with English 5.1 Dolby Surround and French Dolby Surround, plus English and Spanish subtitles. Bonus features include:
-Digital Copy movie file for portable media players
-Commentary with director Peter Cattaneo and actor Rainn Wilson
-Commentary with actors Josh Gad, Teddy Geiger, Emma Stone and Jason Sudeikis
-10 Deleted Scenes
-Gag Reel (including separate options of "Matt Gags" and "Vesuvius Gags")
-Rainn Wilson: Office Rocker featurette
-Fete Best Interview featurette
-Behind The Band: Vesuvius featurette
-Rock Beat With Fish Fishman featurette
-The Music of
The Rocker
featurette
-Rock Tales featurette
-MTV Film Festival Panel
-Fox Movie Channel Presents.In Character With
The Rocker
-"I'm Not Bitter" music video
-Four exclusive podcasts
-Vesuvius Public Service Announcements
Blu-ray Disc Specs:
The Rocker
Born To Rock Edition BD is presented in widescreen format (1.85:1 aspect ratio) on a 50GB dual-layer disc authored in BD-J with AVC (MPEG 4) compression with English 5.1 DTS HD Lossless Master Audio plus English, French & Spanish 5.1 Dolby Digital tracks, with English and Spanish subtitles. The BD includes all of the above two-disc standard-def DVD special features.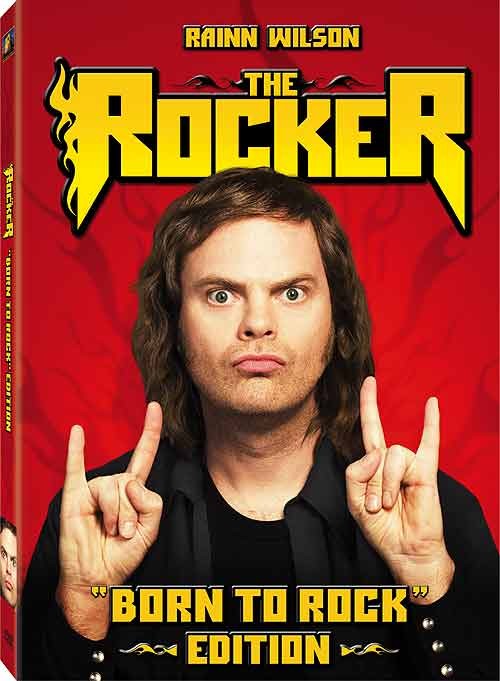 -
Win one of five copies of "The Rocker" on DVD!
A recognized global industry leader, Twentieth Century Fox Home Entertainment LLC (TCFHE) is the worldwide marketing, sales and distribution company for all Fox film and television programming on DVD, Blu-ray Disc (BD) and Digital Copy as well as acquisitions and original productions. The company also releases all products around the globe for MGM Home Entertainment. Each year TCFHE introduces hundreds of new and newly enhanced products, which it services to retail outlets — from mass merchants and warehouse clubs to specialty stores and e-commerce - throughout the world. Twentieth Century Fox Home Entertainment LLC is a subsidiary of Twentieth Century Fox Film Corporation, a News Corporation company.