Little Blue Ivy Carter Is A Chart Record Breaker (Listen)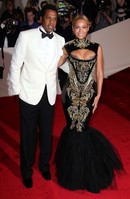 Beyonce and Jay-Z's baby girl is making pop chart history in the U.S. after becoming the youngest act ever to be credited on a Billboard Hot 100 hit.
 
Little Blue Ivy Carter was just hours old when proud dad Jay-Z recorded her crying and added it to the end of his new tune Glory, which he released to the Internet on Monday - and the song is already a hit.
 
It will debut at 74 on the new Billboard countdown when it's officially released on Thursday - and that's a new record for the artist credited as B.I.C.
 
She trumps Stevie Wonder's newborn Aisha, who appeared on his Isn't She Lovely anthem - because the soul man never officially credited his baby as a collaborator on the record.