Little Blue Invasion! Check Out 'The Smurfs' On Blu-ray & DVD Dec. 2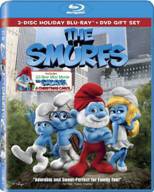 In their race to escape the malevolent wizard Gargamel, the little blue forest dwellers find themselves suddenly transported to Central Park in "The Smurfs."
Now stuck in a world populated by towering giants, the Smurfs must find a way to elude Gargamel, and find a way back to the village they call home. Just three apples high and stuck in the Big Apple, the Smurfs must find a way to get back to their village before Gargamel tracks them down.
Paul Reubens provides the voice of "Jokey" Smurf in a film also featuring Hank Azaria, George Lopez, Fred Armisen, Anton Yelchin, Sofía Vergara, Neil Patrick Harris, Jonathan Winters, and Katy Perry.
Harris told Starpulse before the film's big-screen release, "I was most concerned to make sure it wasn't just a kids movie. I really wanted to make sure that if we were going to be a part of it, that the dialogue was smarter and the lessons learned were appropriate and not just a pandery children's flick. So we worked hard scriptwise and in our dialogue scenes to make sure it didn't feel cut and pasted, that it made sense not only for families that watch it but for people who loved The Smurfs in the '80s and are now on a date and think it would be a cool movie to see or parents to kids themselves would enjoy it on another level."
"The Smurfs" becomes available on Blu-ray 3D, DVD, digital, and a limited edition 3-Disc Holiday Gift Set on Dec. 2.
"The Smurfs" is among the 18 movies in consideration for Best Animated Feature Film at next year's Oscars. The 84th Academy Awards nominations will be announced on January 24.